Are portable external monitors worth it? This is a question that a lot of people are asking these days, and for good reason. Portable monitors can provide a lot of benefits for business professionals, students, gamers, and more.
But with so many different portable monitor models on the market, it can be difficult to figure out which one is right for you.
In this blog post, we will answer all of your questions about portable external monitors and help you choose the right one for your needs!
And if you want to know about the top Lenovo laptops or shop accessories, I've got you covered in my other articles as well. Check out the top 5 best docking stations to connect your external monitor.
THIS POST MAY CONTAIN AFFILIATE LINKS. As an Amazon Associate, I earn from qualifying purchases. PLEASE READ MY DISCLOSURE FOR MORE INFO.
Are portable external monitors worth it?
Yes, portable monitors are worth it for users who need to work with multiple screens, but don't have space or want the hassle of setting up a traditional multi-monitor setup.
Portable monitors for laptops are also worth it if you're looking to improve your productivity by adding more screen real estate without sacrificing portability and convenience.
6 Advantages of using portable monitor for a laptop

:
Increased screen real estate: This is probably the number one reason people purchase portable external displays. When working with multiple applications or windows open, it can be difficult to keep track of everything when your screen is limited to 13 or 14 inches. A portable external monitor can give you an extra 14, 15, or even 17.3 inches of working space, which can be extremely helpful in maximizing productivity, such as using Google Docs.
Included battery: Some portable monitors have a

built-in battery

, which means that you don't have to worry about plugging in your portable monitor every time you want to use it. This is especially useful if you're frequently on the go and need to work on the go.
Easy to set up: Portable external monitors are

extremely easy to set up

. Most portable monitors come with a single cable that connects to your laptop via USB-C or HDMI, which means there are no drivers to install and no software to configure.
Connecting multiple devices: The portable external monitors are

compatible with laptops, tablets, smartphones, and even Raspberry Pi computers

. This means that you can connect up to three portable external monitors without having any problems whatsoever.
Improved portability: The portable external displays are

lightweight and easy to carry

around. You won't have to worry about carrying bulky equipment with you when traveling for work or pleasure, which makes them perfect if you're someone who travels frequently. They also come in a variety of sizes so there's sure to be one that suits your needs.
High resolution: Some portable external displays have a higher resolution than others. This means the images will appear

sharp and clear

, which is important if you're working on something like graphic design or video editing where every pixel counts.
3 Disadvantages of portable monitors

:

There are a few disadvantages to using portable external monitors.
Price: One of the most common complaints is that they can be quite pricey, so if you're on a tight budget, portable displays may not be the best option for you.
Power source: Another potential downside is that some portable monitors require an additional power source in order to function, which can be inconvenient if you're traveling and don't have access to an outlet.
Space: Finally, portable external displays can be a bit bulky and take up more desk space than some people are used to. This may not be an issue if you have a lot of room on your desk, but it's something to consider if you're tight on space.
How do I choose a portable monitor?
Selecting a portable monitor in 2022 may seem like an easy decision. However, portable monitors vary greatly in price and features.
Not every portable monitor is created equal, so it's important to look at what each one has to offer before you choose which one to purchase.
Selecting the best portable monitor

:

To choose the best portable monitor, you should first consider your needs and budget.
Compatibility: Before making your purchase, though, make sure that the portable external display you're looking at is compatible with your laptop or smartphone by checking its specifications online. Many use the newer USB-C connector which has become popular among laptops and smartphones.
Space: You'll also want to consider how much space you have available on your desk for a portable monitor; this will help determine which size would be best suited to meet those needs.
Demo: And finally, if possible try out some portable external displays at an electronics store before making a purchase so that you can be sure about what size works best for you.
Features: Some portable external monitors have a higher resolution than others. This means the images will appear sharp and clear, which is important if you're working on something like graphic design or video editing where every pixel counts.
Resolution: If you're looking for portable external displays to use with your laptop or smartphone, then things like resolution and screen size (measured diagonally) should be taken into account when choosing which portable display will work best for you. 4k resolution is found in many portable monitors.
A portable external monitor can also come in handy if you need to use multiple devices at the same time for work or entertainment.
For instance, by using a portable display with your laptop and smartphone, you can have three separate screens open and working simultaneously without having to constantly switch between applications.
This can be great for people who are always on the go and need more than one device with them at all times.
I recommend buying a 14″ to 15.6″ 1080p resolution portable monitor with a mini HDMI port and/or USB-C. Also choose 100% sRGB, 1,000 contrast ratio, and 300+ nit brightness. Consider FreeSync if your laptop rig supports it.
What sizes do portable monitors come in?
The sizes for portable external monitors range from 13.3" to 17". It is best to choose a portable monitor that matches the resolution of your laptop. The resolution most common is 1920 × 1080 which seems to match up to laptop resolutions quite well.
Do portable monitors have speakers?
Some portable monitors have built-in speakers, while others do not. If you're looking for a portable monitor with sound capabilities, be sure to check the specifications before making your purchase.
Are portable monitors compatible with all laptops?
Portable monitors are compatible with most laptops, but not all of them. You will need to match the ports on your laptop or phone to the ports on the portable monitor. For example, if the portable monitor has a USB-C port, your laptop will need one as well.
What ports do portable monitors have?
Usually, there will be several ports available on a portable monitor, such as Mini HDMI port, HDMI, USB-C, and DisplayPort.
A USB-C connection is the easiest and preferred way to connect. It has become the new standard, compatible across devices, and just works. Read about USB-C as well as the differences between Thunderbolt and USB-C.
How do portable monitors work?
Portable external displays connect to your laptop or smartphone via an HDMI, USB-C, or DisplayPort cable. This allows you to use the portable monitor as a second screen for your device.
Some portable monitors also come with a built-in battery, which means you can use them independently of your device if needed.
How do I connect a portable monitor to my laptop?
To set up and connect your portable monitor to your computer or laptop, do the following:
Check the video out port of your computer. This may be HDMI or USB-C for example.
Check the video in port of the portable monitor. This needs to match the computer's video out port. If both have a USB-C port, use it.
Connect the two devices together with the appropriate cable.
You may need to plug in the monitor if it is required.
That's all there is to make a connection. Windows will detect the new monitor and extend your screen onto the new space. Press the Windows and the P key at the same time to bring up the screen settings.
Do portable monitors have batteries?
Not all of them have internal batteries to supply their power, some require you to plug into a power source.
Do portable monitors need drivers?
No, drivers are not needed, these are plug-and-play type devices and Windows will detect them.
Do portable monitors work with Mac?
Yes, portable external displays work with all types of laptops and smartphones, Macs included.
What is the largest portable monitor size?
The largest portable monitor I could find was a 17.3″ display like this 17.3 Inches 4K Portable Gaming Monitor with IPS Screen | UPERFECT. It has 1000:1 contrast ratio, is ultra-thin, and is great for work, entertaining, games, or graphic design.
Can you watch Netflix on a portable monitor?
Yes, you can watch Netflix on a portable monitor. If you are having issues, try using an HDMI cable or press the Windows key and press P at the same time, next, select just the external monitor as the display.
The 5 best portable monitors of 2022
See my portable monitor review of the top 5 best portable monitors. If you're looking for the top pick, choose the UPERFECT Portable Monitor Freestanding Touchscreen, 15.6" FHD 1080P IPS Screen.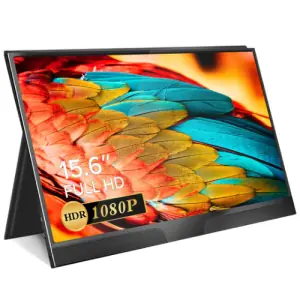 The UPERFECT is a 15.6" portable gaming monitor with resolution 1920×1080 IPS screen, refresh rate 60Hz, aspect ratio 16:9, and 178-degree full visual angle, bringing you a vivid and smooth viewing experience. with Aluminum alloy housing equipped, maximizing protection monitor from collapsing or bumping.
It has a 15.6 inches large display screen and 1080P FHD configuration, widely applied to gaming, like PlayStation 4, Xbox One, Nintendo Switch, as a second screen for office, advertising, photography, as a monitor screen for security systems, industrial monitoring and so on.
You only need one Type-C cable to signal transmission & power supply between a laptop with Thunderbolt 3.0 and a cellphone with a USB 3.1 interface. Equip with mini HDMI port to transmit signal for devices without Type-C port by mini HDMI cable, DP adapter, VGA adapter.
Key Features:
Display Type: LCD
Dimension: 15.6-inch
Panel type: IPS
Visual Angle: 178 degree
Resolution: 1980 x1080
Display color: 16.7M (8bit)
Contrast ratio: 700:1
Aspect Ratio: 16:9
Brightness: 300cd/m²
Color gamut: 72% NTSC
Refresh rate: 60 Hz
Built-in Speaker: 21W
What's In The Box:
1 * UPERFECT UBlade A15 15.6-inch portable monitor
1 * Mini HDMI Cable
1 * USB-C to USB-C Cable
1 * USB-A to USB-C Cable
1 * 5V 3A Charger
1 * Manual
1 * Sleeve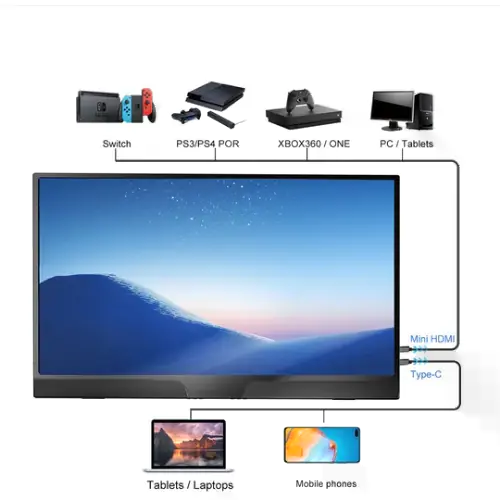 What others have said:
"All needed cables came with the monitors. I have not one complaint! They fit in my bag with my laptop and take up hardly any space. The cover/stand keeps them well protected."
"This monitor works great for my needs. It's super light and thin making it easy to transport and move around. The display is excellent and powering this thing is a breeze."
See all my Recommended Best Portable External Monitors.
Portable Monitors For Laptops – Summary
At the end of the day, a portable external monitor is worth the investment If you're someone who frequently travels for work or pleasure, or if you just need more screen real estate to get your job done. A portable external monitor is definitely something you should consider!