Do you ever find yourself writing with an old school pen or even worse a pencil? As you pry your fingers off that last-century writing device, ask yourself if there isn't a better way.
Well ask no more, there is a whole world of digital pens out there just waiting for you to discover.
I went through this same process and wanted to find out about the digital pens from Lenovo. In this article, I've compiled their offerings for you to peruse.
What Is The Difference Between Lenovo's Pens?
There Are Two Types Of Stylus Pens: Active And Passive.
Active Stylus Pen:
An active stylus pen has internal components such as electronics and batteries. These electronic components allow you to customize the pen to your needs. Generally, these pens have memory and buttons that act similar to mouse buttons.
In addition, they have electronic erasers and pressure-sensitive tips to allow lighter or heavier lines when drawing. You can see these types of pens would be popular with artists. Note that these pens are usually larger than the traditional passive pens because they house internal electronics.
Passive Stylus Pen

:

A passive stylus pen does not have internal electronic components and therefore doesn't have touch sensitivity. Neither does it have buttons or memory. It is just a capacitive stylus that works with an electrical charge from your fingers to the screen. This is the same as using a touch screen with your finger, but with finer control with the stylus.
What is the list of Lenovo pens?
Lenovo has several active and passive pens for their assortment of laptops and tablets.
It is important that you look up your device model number to find the correct pen for it.
An easy way for you to do that is to go to Lenovo's Accessory Lookup webpage.
Below I listed a few of Lenovo's pens to give you an idea of what's available. Past that however is a table listing the pen, its part number, and compatibility.
List of Lenovo pens(partial list):



Digitizer Pen
Passive pen
Usually housed within device cover
ThinkPad Tablet Pen
Passive pen
Housed within device cover
Larger in size than the Digitizer Pen
ThinkPad Helix Digitizer Pen
Passive pen
Housed within device cover
A variation of the Lenovo Digitizer Pen
ThinkPad Pen Pro (also known as Active Pen)
Active pen
Requires one AAAA battery
The largest size pen available
Always housed externally of the system
Can be stored with an external holder accessory that attaches to the USB port
Mouse-click input
ThinkPad Pen Pro 2
Active capacitive pen
Rechargeable
Housed within device cover
Mouse-click input
Lenovo Active Pen
Active pen
Powered by one AAAA battery
2,048 levels of pressure sensitivity
Palm rejection
Two quick access side buttons
USB pen holder and three replacement tips
Streamlined metal body design
Lenovo Active Pen 2
Active Pen
Up to 4096 levels of pressure sensitivity
Bluetooth Connectivity
Paper Like Writing
2000 Hours Battery Life
Metallic and Diamond Cutting
Anti-Accident Clicks
Configurable Button
ThinkPad Pen Pro 3
Active capacitive pen
Rechargeable
Housed within device cover
Mouse-click input
Lenovo Pen Part Numbers
The table below will help you find the part number associated with the corresponding pen as well as which hardware it is compatible with.
From Lenovo:
Notebook Pens and Pen Accessories
Notebook or Tablet Pens
Part Numbers
Hardware Requirements
ThinkPad Pen Pro for X1 Yoga
4X80K32539
X1 Yoga 
Lenovo Digital Pen
4X81C66286
ThinkPad X12 Detachable Gen 1
Lenovo Mod Pen
4X81B07782
ThinkPad X1 Fold Gen 1 (Types: 20RK, 20LK)
Lenovo E-Color Pen
GX81B10210
Yoga Duet 7-13IML05
Lenovo Precision Pen

4X80Z50965
Think Book Plus, Yoga X1 Next (Yoga), X12
ThinkBook Yoga Integrated Smart Pen
4X81B32809
Thinkbook 14s yoga (20WE)
Lenovo 500e Chrome Pen
4X80R08264
Lenovo 500e Chromebook
Lenovo Tablet 10 Active Pen
4X80R03232
Lenovo Tablet 10
Lenovo Active Pen
GX80K32882
Lenovo Miix 510-12IKB,
Miix 510-12ISK,
Miix 700-12ISK,
Miix 720-12IKB,
Yoga 900s-12ISK
Lenovo Active Pen 2
4X80N95873, 4X80N95874,
4X80Q75521, 4X80Q75522,
4X80Q75523, 4X80Q75524,
GX80N07824, GX80N07825,
GX80N07827, GX80N20629, GX80Q75525, GX80Q75526, GX80Q75527, GX80Q75528
ThinkPad X1 Tablet
Gen2 (20JB, 20JC),
Miix 720-12IKB,
Lenovo Miix 510-12IKB,
Miix 510-12ISK,
Miix 520-12IKB
(Type 20M3, 20M4),
Miix 520-12IKB
(Type 81CG),
Yoga 920-13IKB,
Yoga 720-12IKB,
Yoga 720-13IKB
(Type 80X6),
Yoga 720-13IKB
(Type 81C3),
Yoga 720-15IKB
Lenovo Active Pen 3 LP-251
Tab M10 Gen 3
ThinkPad Tablet Pen
0A33887, 0A33888,
0A33889
ThinkPad Tablet
ThinkPad Tablet 2 Pen
0A33899
ThinkPad Tablet 2
ThinkPad Helix Digitizer Pen
0A33910
ThinkPad Helix 1st
Gen (3697, 3698,
3701, 3702)
ThinkPad Pen Pro
4X80K32538
Yoga 260, Yoga 370,
X380 Yoga
ThinkPad Pen Pro
4X80H34887,
4X80H34888
Yoga 11e
(Type 20D9, 20DA),
Yoga 11e
(Type 20E5, 20E7),
Helix (Type 20CG,
20CH),
Helix (Type 3xxx),
ThinkPad 10 2nd,
ThinkPad S1
Yoga 12,
ThinkPad S3
Yoga 14 (Type 20DM, 20DN)
ThinkPad Pen Pro 3
4X80K32539
ThinkPad X1
Yoga 1st Gen,
X1 Yoga 2nd
Gen, 11e 4th
Gen Chrome
ThinkPad Pen Pro-1
4X80K32537
ThinkPad Yoga 460,
Yoga 14
ThinkPad Pen Pro for ThinkPad 11e Yoga
4X80R38451
ThinkPad 11e Yoga
ThinkPad Pen Pro for L380 Yoga
4X80R07945
ThinkPad L380 Yoga
ThinkPad Yoga Pen
4X80F22110
ThinkPad S1 Yoga, ThinkPad S1 Yoga 12
Lenovo Pen Pro
4X80R02889, 4X80Q97739,
4X80Q97740, 4X80Q97741,
4X80T37573
ThinkPad P52,
ThinkPad X1
Extreme
(20MF, 20MG), ThinkPad X1
Tablet Gen 3
(20KJ, 20KK)
Lenovo Integrated Pen for Yoga C930
GX80T09108, GX80T09109,
GX80T24710, GX80T24711
 
Lenovo Integrated Pen for 300e Windows 2nd Gen
4X80T77999
300e Windows
2nd Gen (81M9)
Pen Accessories
Part Numbers
Hardware Requirements
ThinkPad Active Pen Holder
4X80J67430
ThinkPad Pen Pro (4X80H34887, 4X80H3488,
00HN890, 00JT921)
ThinkPad X1 Tablet Thin Keyboard Pen Holder Kit
4XF0L68927
ThinkPad X1 Tablet Thin Keyboard
Lenovo Pen Tip Kit
4XH0R14769
Lenovo Active Pen, ThinkPad Pen Pro
Is the Apple Pen compatible with Lenovo Tab M10 plus 10.3?
No, the Apple pen, or pencil, is not compatible with the Lenovo Tab M10 Plus. The Apple pen has been designed to interact with select Apple devices only, such as certain iPads.
The Lenovo Tab M10 Plus (Gen 1 and Gen 2) uses capacitive technology and will work with any capacitive-type stylus, but will not work with any current active pen in the US.
Lenovo has a new Active Pen 3 model LP-251 that according to Lenovo's PSREF book will work with a few Tab M10 Gen 2 devices and the upcoming Lenovo Tab M10 Gen 3(coming soon).

Additional Information On Lenovo Pens
Lenovo Pen Pro

The Lenovo Pen Pro (4X80R02889, 4X80Q97739, 4X80Q97740, 4X80Q97741, 4X80T37573).
Industry-leading 4096 levels of pressure sensitivity for natural writing and sketching.
156-hour continual use battery life and three configurable short-cut button to enhance productivity. Recognizes degrees of tilt for lifelike shading for drawings and paintings.
Modern digital convenience meets the classic look and feel in the Lenovo Pen Pro.
Three replacement pen tips are included when the original tip is dull.
Setup Or Pair Lenovo Pen To Computer

:

To set up or pair your Lenovo active pen to Windows, you simply need to go into the Bluetooth settings and press a button on the pen itself. See the instructions below.
From Windows, right click on Start button > Settings > Devices > Bluetooth.
Press the top button on the pen for several seconds until light flashes. This turns on pairing mode.
Select your pen from the device list in Windows, then select Pair.
You may need to press +Add Device from the Bluetooth screen before pressing the top pen button to get it to pair.
On some Yoga laptops, to get the pen to work you may need to launch 'Lenovo Pen Settings' and check the pen is charged. Also, try reseating the pen a few times into the Yoga laptop to make sure it is recognized and charging.
How To Charge A Lenovo Active Pen
To charge a Lenovo active pen, the pen needs to be inserted into the device slot, it will snap into the proper position. The pen should normally receive an 80% charge in about 15 seconds and be fully charged in about five minutes.
A fully charged active pen should last about a week.
NOTE: Make sure the computer is on or in sleep mode; otherwise, the pen will not be charged.
If you have a pen with a AAA battery, it should hold a charge for about a year under normal use.
How To Use The Buttons From Your Lenovo Digital Pen

These are the default Pen Button Functions although you can change them to suit you. The end of the pen holds the Top button. The two buttons along the side are barrel buttons.
Hold the top barrel button and tap the screen: Right-click
Hold the bottom barrel button to erase the object in supported applications: Erase
Top button (for Pen with top button only after paired to your PC): Hold the bottom barrel button to erase the object in supported applications: Erase
Click once: Open the home page of Windows Ink Workspace
Double click: Send screenshot to OneNote
Change Pen Settings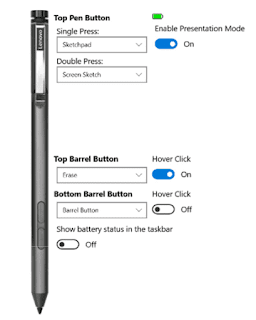 In Windows 10 you can change the pen under Settings: Devices: Pen and Windows Ink.
Also available to configure more functions is a downloadable app from the Microsoft Store. Search for 'Lenovo Pen Settings'.
READ NEXT: 5 Rugged Laptops For Students