If you're looking for a comprehensive Ezoic review, you've come to the right place. In this blog post, we'll discuss what Ezoic is, how it works, and the tools available to help you make the most of your account.
We'll also answer some common questions about Ezoic, such as "Can Ezoic increase my traffic?" and "How do I know if Ezoic is working?" So read on to learn everything you need to know about this powerful ad network.
Also, find out how to monetize your blog with ads, and information on web hosting basics to learn about how to choose the best hosting provider.
My Ezoic Review and Insights
THIS POST MAY CONTAIN AFFILIATE LINKS. PLEASE READ MY DISCLOSURE FOR MORE INFO.
How do I join Ezoic?
If you're interested in joining Ezoic, the first step is to sign up for an account. You can do this by visiting the Ezoic website and clicking on the "Sign Up" button.
From there, you'll need to provide some basic information about yourself and your website. Once you've done that, you'll be able to access your Ezoic account and start using the platform.


Ezoic requirements
The requirements for Ezoic have been updated and they now have what they call 'tailored solutions' depending on your monthly visitors. There is no longer an Ezoic minimum traffic requirement to join Ezoic.
Less than 10,000 Visitors:
New users join 'Ezoc Access Now' available to all sites no matter how small.
Configure and optimize your website in minutes with the aid of their training courses.
Has access to Monetization, Analytics, Site Speed, Video Hosting, and Cloud Integration.
More than 10,000 Visitors:
New users need to earn at least $50/ month and will be assigned a 'Level' depending on their monthly visitors.
Receive onboarding assistance.
Access to the 'Access Now' tools plus enhanced Ad Partners and additional learning tools.
What are Ezoic's features?
Ezoic offers a number of features that can help you optimize your website and improve your traffic. Some of the most popular features include:
– Leap: Ezoic's SiteSpeed(Ezoic site speed accelerator) page speed tool tests your website's speed and identifies ways to improve it.
– Ad Tester: Ezoic's Ad Tester tool tests different ad placements on your website to see which ones perform the best. It automatically adjusts to improve revenue as well as user experience.
– Video Platform: Ezoic's Video Platform helps you host and manage your videos. It also offers video advertising options to help you monetize your content.
– Tag Tester: Ezoic's SEO Tag Tester tool helps you test different tags on your website to see which ones perform the best.
– Data Analytics: Ezoic's Big Data Analytics tool provides detailed reports about your website traffic and revenue.

Can Ezoic increase my traffic?
Yes, Ezoic can definitely help increase your traffic. In fact, many Ezoic users have seen their traffic grow by huge amounts after joining the platform. This is primarily done with SEO optimization, but Ezoic's other features can also help to drive traffic to your website. Ezoic's LEAP tool helps to improve page speed which directly impacts traffic.
According to Ezoic: "For example, in January of 2018, we studied 50 new sites using Ezoic that derived the majority of their traffic from organic search. One year later, the average publisher in this group saw an 85% improvement in traffic and a 24% improvement in keywords that ranked in organic search results."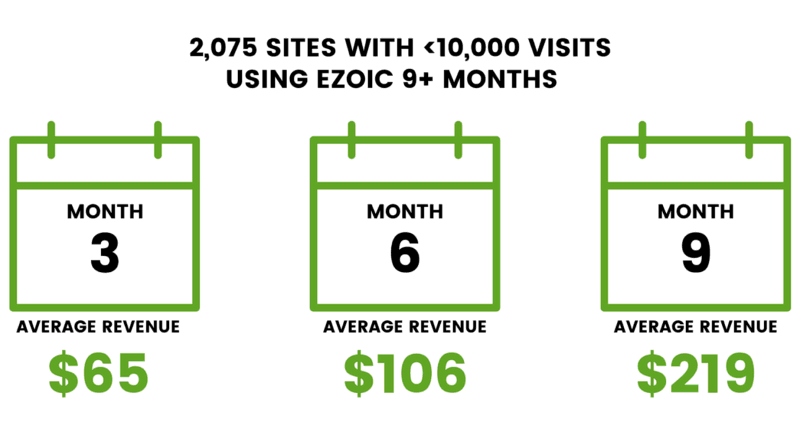 How do I know if Ezoic is working?
There are a few different ways you can tell if Ezoic is working. First, you can check your website's traffic statistics to see if there's been any growth since you joined Ezoic.
You can also use Ezoic's Data Analysis tool to see if your ad placements are performing well. If you're seeing a lot of clicks and impressions on your ads, then Ezoic is probably working well for you. You can really drill down into all aspects of data associated with your website.
Finally, you can always contact Ezoic support if you have any questions or concerns about your account. The Ezoic team is always happy to help.
How do you use Ezoic?
Now that you know a little bit more about Ezoic, it's time to learn how to use the platform. Here are some of the most important things you need to know:
– Ezoic works with Google Adsense, so it's best to have an Adsense account in order to use Ezoic. Technically, an Adsense account is not a requirement though.
– Ezoic automatically tests different ad placements on your website using AI algorithms. You can also select your preferred ad placements using the Ezoic extension.
Basically, Ezoic analyses your website, and the dashboard provides details on your earnings, site speed, video placement info, SEO tag tester results, and so on.

Is Ezoic trustworthy?
Yes, Ezoic is definitely a trustworthy company. They're a Google Certified Publishing Partner, which means they've been vetted by Google and have passed all of their requirements.
A Google Certified Publishing Partner. Learn more about Ezoic here.
Ezoic is also a member of the Better Business Bureau, so you can be sure that they're a reputable business. Finally, Ezoic has an A+ rating on Trustpilot, which is one of the most trusted review sites.
So if you're looking for a trustworthy ad network, Ezoic is definitely a good option.
How much can you earn with Ezoic?
There's no easy answer to this question, as it depends on a number of factors. However, Ezoic users have reported earning anywhere from a few dollars to a few thousand dollars per month.
Of course, your earnings will depend on things like the traffic you're getting to your website and the ad placements you're using.
But if you're looking to earn some extra money from your website, Ezoic is definitely a platform worth considering. Learn more about Ezoic Monetization.

Is Ezoic better than Google AdSense?
Ezoic vs. AdSense
Yes, Ezoic provides higher ad payouts to its customers and also works with AdSense to mediate the best prices between the two. Plus, Ezoic offers a number of features that AdSense doesn't, like the ability to test different ad placements and optimize your website for maximum revenue.
So if you're looking for an alternative to AdSense, Ezoic is definitely worth considering.
Do I need AdSense for Ezoic?
Ezoic is a Google AdSense Certified Partner, you simply link the two accounts together. The Ezoic system uses the data from your existing AdSense account to optimize its optimization tests. You do not have to have an AdSense account to use Ezoic, it is recommended to link the two for the best results.
What does Ezoic company do?
Ezoic is an online advertising company that connects publishers with advertisers. Ezoic allows publishers to place ads on their websites and earn revenue from them. Ezoic also provides tools to help publishers optimize their websites for maximum revenue.
Ezoic states: "Ezoic is an automated website testing platform that helps businesses increase traffic and boost revenue by testing hundreds of ad location and style combinations."
Where is Ezoic based?
Ezoic is headquartered in Carlsbad, California, with offices in London, Germany, and Canada.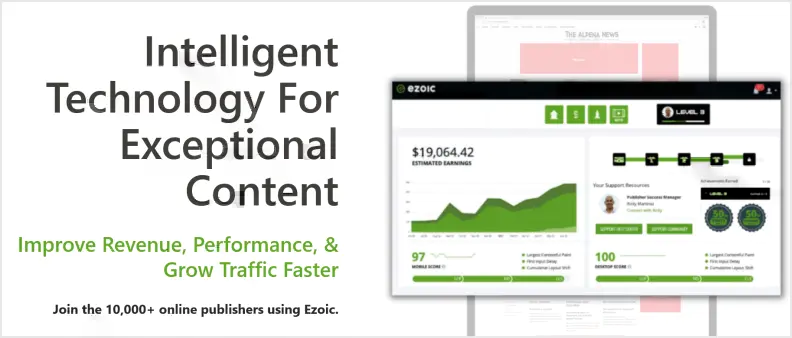 How does Ezoic's AI technology work?
For that answer, we'll look to Ezoic for the answer.
Ezoic says A.I. has many advantages over A/B testing.
Reduces data mining
Eliminates hard coding
Robust changes in data patterns over time
Outsources the math
Again, this is pulled from the Ezoic website page directly:
"Ad Tester uses real artificial intelligence to increase ad earnings and improve visitor experiences. You control the experiments and Ezoic streamlines how ad partners, density, types, and locations are delivered to each visitor."
"Ezoic learns from results automatically and then makes intelligent decisions on how to display ads to each visitor. This increases ad revenue, improves UX, and causes advertisers to bid higher over time because of the improved website engagement."
The ad variables tested are:
Ad type (display, native, link, video)
Ad location (where on the page)
Ad size: e.g. 300×250 or 300×150
Viewability metrics
RTB landscape
Presence of other ads and their location
Navigation options present (sidebar, menu, etc.)
Page load speed-critical path rendering
Content location, e.g. recommendation widgets
Read the full details on Ezoic's AI Technical page, or check out this demonstration.
Ezoic Review – Summary
I use and recommend Ezoic as the best ad network partner. Sign-up and start earning from your blog.