How To Choose The Best Gaming Chair On a Budget of $300
If you're a gamer, then you know that having the right gaming chair is essential. Not only do they make your gaming experience more comfortable, but they can also help improve your performance.
Gaming chairs come in all shapes and sizes, and it can be tough to figure out which one is right for you. That's why we've created this ultimate buying guide to gaming chairs!
In this post, we'll teach you how to choose the best budget gaming chair under $300 for your needs, what to look for in a gaming chair, and how to size a gaming chair correctly.
The number and type of adjustments a quality gaming chair has should be a top priority in your buying decision.
Upgrades-and-options is reader-supported. When you buy through links on this site, we may earn an affiliate commission. As an Amazon Associate, I earn from qualifying purchases. Learn more
My Top 2 Favorite Gaming Chairs (Top Scores)
Best

All-Around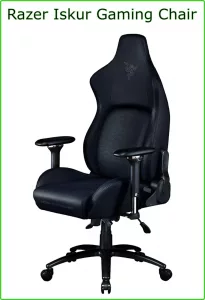 Excellent adjustability.
Quality and comfort very good.
Mid-range price.
The overall winner in a gaming chair.
Best Budget Choice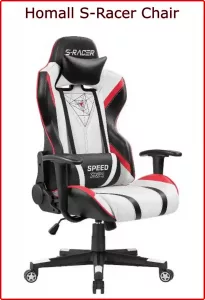 Very good comfort level.
Ergonomics provides nice support.
Armrests not adjustable.
The affordable choice in a chair.
These gaming chairs meet the requirements of:
Ample seating adjustments.
Comfort and ergonomics.
Size and features.
Quality and material.
How To Choose The Best Budget Gaming Chair
To select the gaming chair that is best for you, take into account your height, weight, and how much you plan on sitting in the chair. Chairs usually are available in small, medium, and large sizes, which will help narrow your choices.
We'll get into the specific features of a good chair in a bit, but for now, knowing the requirements you need for comfort and support will help you be an informed buyer.
Below I cover what to look for in a gaming chair, how to size a gaming chair, share a gaming chair statistics table, and finally, answer some frequently asked questions.
What To Look For In A Gaming Chair: 4 Things
A good gaming chair should include ample seating adjustments, such as height and tilt, to ensure you're always comfortable. Gaming chairs that focus on ergonomics will often have features like built-in lumbar support and headrests to keep you supported during long gaming sessions.
The size and features of a gaming chair are also important factors to consider. Make sure the chair you choose fits your body and has all of the features that you need.
The quality of a gaming chair is important, but make sure it's made from durable material so that it can last for years to come. Gaming chairs can get pretty expensive, so you want one that will stand the test of time!
Quality, materials, and comfort all play a part and will be discussed below.
1.
Plenty Of Adjustments
For a proper fit, a chair should have adjustments allowing it to support the whole body. A full range of adjustments include:
Height adjustment. Feet should be flat on the floor with knees at 90 degrees.
Seat pan depth and width. Most of your thighs should be supported but not reaching the knees. The seat should be just wider than your hips.
Back support adjustment. Adjust the back to the same height as your back.
Lumbar support adjustment. Adjust to support the lower back at about the belt level.
Armrest support adjustments. Arms should be naturally at your sides, adjust the armrests to meet them.
Headrest adjustments. Set the headrest to support the back of the head and neck at a level position.
Tip #1) – Buy a chair with ample adjustments to fit it to your shape and size.
2.
Comfort And Ergonomics
A five-spoke wheelbase is standard these days but the casters vary as some are plastic and others metal. Choose casters for either a hard surface or a carpeted surface.
Some lumbar and head supports are in the form of adjustable pillows. Place these in the best position as described above.
Tip #2) – Choose the right size chair for your body and then use the adjustments to fit it to you. The seat should be about 2″ wider than your hips, and the depth from your back to just shy of your knees.
3.
Size And Features
Gaming chairs come in different sizes and features, it is important to pick the one that best suits your needs. Gaming chairs can be bulky and take up a lot of space, so it is important to measure the space you have available before making your purchase.
Gaming chairs are made in different sizes to match your specific height. They are available in small, medium, and large sizes. The seat height should be adjustable from about 17″ to 21″ above the floor for most people.
Features You May Want To Look For Include

:

Built-in lumbar support – Gaming chairs that offer built-in lumbar support help keep your back straight, which can be beneficial if you spend a lot of time sitting down.

Built-in headrest – Gaming chairs with built-in headrests are designed to provide comfort for long periods of gaming sessions and prevent neck strain from looking up at the screen too much of the time.

Built-in speakers – Gaming chairs with built-in speakers allow you to immerse yourself in your game without having to use headphones. This is a great feature for gamers who want to be able to hear everything that's going on around them!

Reclining capabilities – Gaming chairs that recline allow you to take short breaks during long gaming sessions without having to leave your chair. This is a great feature for gamers who want to be able to take a break without having to get up and move around.

Ventilation – Why do gaming chairs have holes? Gaming chairs are designed for comfort and support. They often have holes in them because it allows air to flow through the chair, which helps prevent sweating while sitting down.

Tip #3) – When choosing a gaming chair, pick the one that has the features you need and fits in the space you have available.
4.
Know Your Quality And Materials
The material your game chair is made of can make a big difference in comfort over the long term. Leather, PU leather, PVC leather, fabric, and mesh are all options for chair materials.
Leather: The most durable, breathes better than PU or PVC. Most expensive, and is often the most popular choice because it's durable and comfortable.
PU Leather: Synthetic with a polyurethane coating. A step below real leather and less expensive.
PVC Leather: Imitation with polyvinyl chloride. Stain-resistant but less durable and less expensive than real or PU leather.
Fabric: Very breathable, less stain-resistant, and not as durable as leather. Softer and less expensive.
Mesh: Most breathable but generally less durable. Prices vary.
Tip #4) – Opt for a breathable chair material with the most durability.
How Long Do Gaming Chairs Last?
Gaming chairs are not meant to last forever, but they should last for many years with regular use. If you're looking for a chair that will last longer, leather is your best bet. It will hold up better than other materials.
How To Size A Gaming Chair
If you're looking for the best gaming chair, then it's important to make sure that you get one that is sized correctly and fits your body. Gaming chairs come in all shapes and sizes, but not every chair is made for everyone.
Use this gaming chair sizing guide to ensure you select the ultimate chair for you.
When you sit in a gaming chair make sure it meets the following

:
The chair sits high enough so your

elbows are level

with the keyboard if you have one.
The chair seat pan should be deep enough to cover most of your thigh, but not so deep it hits your knees.
Your feet should be

flat on the floor

.
The backrest or lumbar support should support at about the

belt level

or low back.
The seat should be wide enough for your body.
A tilt control to lean back is a good plus.
Good firm padding for support.
Tip #5) – The chair height and seat width should match your size in your game chair buying decision.
How Do You Know If A Gaming Chair Is Good?
To determine if a gaming chair is good, look at a few of its features. It should have a high backrest to support you for hours while playing on your Legion computer. Also, the build materials should be durable and long-lasting, such as an aluminum base.
The price of a chair does not necessarily determine its quality, however, a mid-range chair will generally cost around $300 US dollars. It is important to buy a chair based on its features and not solely on how it looks.
Built-in lumbar support is almost always superior to an adjustable pillow. Pillows either move or are too soft or too hard for users.
Tip #6) – Price does not always equal quality. Buy for features and not on looks.
Best All-Around Chair
Ergonomic Lumbar Support: Total lower back support with built-in, fully adjustable lumbar curve.
Multi-Layered Synthetic Leather: Tougher and more durable than standard PU leather.
High-Density Foam Cushions: Denser, durable cushions have a plush feel and better contouring.
4D Armrests: Adjust the armrests' height, angle and move them forwards or backward.
9.7/10 Rating – See table below
Why The Razer Iskur Gaming Chair –
Ample Adjustments: 4D Armrests, Lumbar, Height, Recline, Tilt, Lock
Ergonomics And Comfort: Firm Cushion, Comfortable Lumbar Backrest
Size And Features: Up to 6'2″ and 299 lbs., Fully Adjustable, 66 lbs.
Quality And Material: Premium Synth PVC Leather, Metal Base, Class 4, 3 Yr. Warranty
Seat cushion might be too firm for some users. -Give it a few days to break in.
The Razer Iskur is a solid chair with firm padding and premium synthetic leather which features a cool snakeskin pattern. For me, the lumbar adjustments are fantastic and much better than chairs that use pillows.
The adjustments, quality of build, and comfort all paired with a 3-year warranty are the reasons the Razer Iskur ranks as the best all-around gaming chair.

Gaming Chair Statistics Table
Best Gaming Chair Under $200
Multi-Function: 360-degree swivel and multi-direction wheels, load capacity: 300-pound maximum weight capacity. Recline function. Between 90 to 180 degrees. Rocking function.
Material: Comfortable high-density shaping foam, elasticity resilience, and service life. 1.8mm thick steel frame, PU synth. Leather.
Occasion: Homall s-racer gaming chair, perfect for office, home, conference occasion, and gaming room.
Adjustments: Height, recline, tilt. You cannot adjust the armrests.
9.4/10 Rating – See table below
Why The Homall Racing Gaming Chair –
Ample Adjustments: Lumbar pillow, Height, Recline, Tilt, Lock
Ergonomics And Comfort: Good Cushion, Comfortable Backrest w/ pillow
Size And Features: Up to 6'2″ and 260 lbs., Fully Adjustable, 66 lbs.
Quality And Material: Premium Synth PVC Leather, Metal Base, Class 4, 3 Yr. Warranty
Armrests are not adjustable.
The Homall chair is a solid choice for those on a budget. It is comfortable, easy to assemble, and of good quality. It has good adjustments but does not have adjustable armrests. For the price, this is a great choice.
Comfort, quality for the price, and stylish looks make the Homall S-Racer chair the best budget-friendly gaming chair.
Frequently Asked Questions
Are Gaming Chairs Bad For Your Back?
It depends on the quality of the chair. A good chair will have ergonomically developed support and adjustments to provide a comfortable fit.
How Long Do Gaming Chairs Last?
A good quality gaming chair can last years but expect anywhere from 2 to 5 years for a chair to last.
Why Do Gaming Chairs Have Holes?
Mesh is a popular material on some chairs, the holes allow for better comfort and breathability. Mesh is a good option but may not last as long as other materials.
How Much Should I Pay For A Gaming Chair?
The cost of gaming chairs ranges from $100 to $1000 US dollars. Look to pay about $300 for a mid-range quality chair.
Is My Gaming Chair Supposed To Lean Forward?
Yes, a gaming chair is designed to have the ability to lean forward for some situations. The adjustments can be set to your desired position.
Are Gaming Chairs Hard To Assemble?
No, they are not difficult to assemble. Most can be put together by one person in about 45 minutes. The chair should come with a manual and tools.
Upgrade your gaming experience with a new gaming keyboard.
Check out: Best Gaming Keyboards Under $100
Read why you may want to get the Oculus Quest 2 as your next VR headset.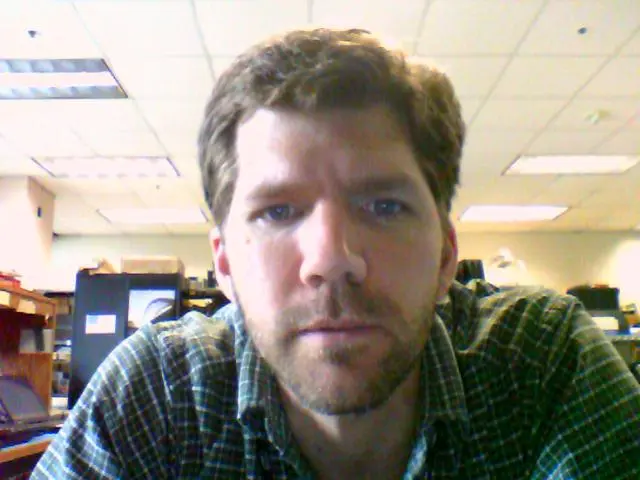 J.S. is the owner, content creator, and editor at Upgrades-and-Options.com. I've worked in the IT and Computer Support field for over 20 years. The server hardware in my computer labs has mostly been IBM, but I've supported Dell, HP, and various other hardware. In addition, as part of my lab administrator responsibilities, I've learned, supported, and repaired/upgraded network hardware such as Cisco routers and switches. READ FULL BIO >>
Here are some of my favorite tools
Thank you for checking out my article, I hope you have found it helpful. Below are some tools I recommend that I think you will find useful as well. They are affiliate links where I earn a commission if you do use them. This helps to support this website.
Web Hosting:
I actually have an article discussing the basics of web hosting and why I switched over to the cloud hosting company, Cloudways. Start a free trial and see all their plans.
Web Security:
Stay safe and browse fast with – NordVPN. Get a special deal through my link.
These monitors are on the Lenovo website as part of their gaming accessories. Check them out through my affiliate link if you need a new monitor.

Key Details
Game on the go with the Lenovo Game On Bundle
Legion 17″ Backpack lets you pack up and go
M600 Mouse and H500 headset compliment the set for gaming anywhere
Includes:
Legion H500 Pro 7.1 Surround Sound Gaming Headset
Lenovo Legion 17" Armored Backpack
Lenovo Legion M600 Wireless Gaming Mouse

Key details
Get in the game with the Legion Basic Gaming Bundle ONE
Lenovo Legion K500 Keyboard and M200 Mouse are quick and precise
Our gaming mouse mat makes swiping a breeze
Includes:
Lenovo Legion K500 RGB Mechanical Gaming Keyboard
Lenovo Legion M200 Mouse
Lenovo Legion Gaming Cloth Mouse Pad