Looking for a great gaming keyboard for under $100? I selected two options for you, one wired gaming keyboard and one wireless gaming keyboard.
My picks for the best gaming keyboards under $100 are the Lenovo Legion K500(wired) and the Corsair K63(wireless).
2 Great Affordable Gaming Keyboards You Should Consider (Wired And Wireless).
There are many gaming keyboards to choose from, read below on why I chose these two. I also wanted to pick one wired and one wireless so you can have options and can pick the one you prefer.
Lenovo Legion K500 RGB Mechanical Gaming Keyboard
As mentioned above the Lenovo K500 is a wired keyboard. It is also a full-size mechanical keyboard using RED switches. See the specs below.
| | |
| --- | --- |
| K500 Part Number: | GY40T26478 |
| Switches: | RED mechanical (50 million clicks) |
| RGB: | 16.8 million color lights, 104 keys |
| Cable Length: | 5'9″ Braided cable |
| Weight: | 2.9 lbs. |
| Software: | Legion Accessory Central |
| Hot Key: | Dedicated media keys, game mode button, backlight brightness |
| Dimensions: | 4.8″ x 2.9″ x 1.6″ |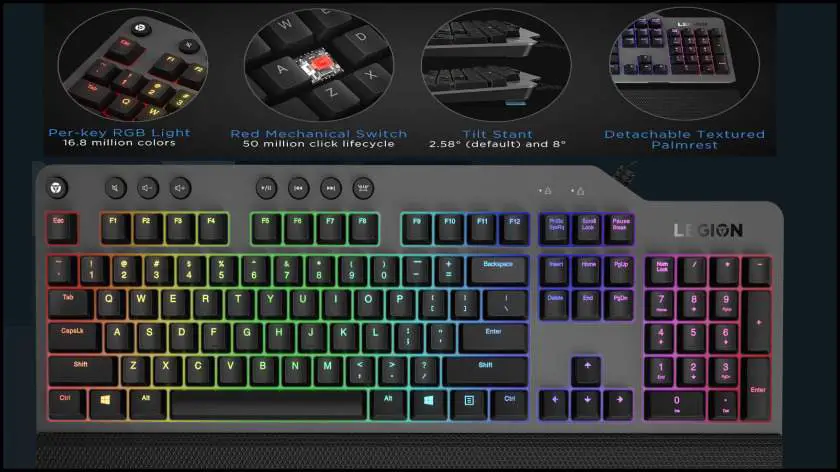 The Lenovo Legion Accessory Central software for the K500 gaming keyboard allows you to easily configure your customized settings for the keyboard. The software lets you select regular or game mode as well as the options you want for your profiles. And of course, you select the RGB settings, lightings for the keys.
What's nice about the Legion K500 keyboard?
The keys have a nice feel, if you are familiar with red switches you will have a sense of this keyboard. The keys are responsive and have a spacious layout, and the mechanical switches provide a satisfying click.
The 104 full-sized keyboard has a solid weight and feel and a detachable palm rest.
It has dedicated media keys and of course, the backlight is very customizable.
Do you own a gaming phone? Read my How-To article called: Lenovo Legion Duel And Duel 2 (How-To) to see how to fix issues with the phones.
And of course, get yourself a good gaming chair with the buying guide I recently wrote.
Purchase the Lenovo K500 through my affiliate link with Amazon, it provides a small percentage back to me if you do.
Why Buy The Lenovo Legion K500 Gaming Keyboard
The K500 is full size using RED mechanical switches, 3 zones, and 7 dedicated media buttons.
The Legion Accessory Software provides a wide range of options for customization.
The K500 weighs 2.9lbs. with the palm rest attached. It has rubber feet to secure its location and a braided USB cable.
The K500 LEDs are lit under the keys and not overly bright, plus they are highly configurable to 16.8 million.
| | |
| --- | --- |
| 258 Reviews Total | 4.8 out of 5 |
| Brightness | 5.0 |
| Performance | 4.8 |
| Features | 4.6 |
| Thickness | 4.8 |
| Ergonomics | 4.5 |
| Value | 4.7 |
| Reliability | 4.8 |
---
If you are having issues getting the backlight to work properly on your keyboard be sure to read my article titled:
Lenovo Keyboard Backlight Not Working.
It lists 6 steps to help you resolve the lighting issue.
Related article: IdeaPad Gaming 3 Upgrade (Full Specs)
CORSAIR Gaming K63 Wireless Keyboard
The K63 is similar to the K500 above but this is a wireless gaming keyboard. It uses the CHERRY MX mechanical key switches. See the specs below. Also note, although it is wireless it does allow you to plug in using a USB cable if needed.
| | |
| --- | --- |
| K63 Part Number: | 78014733 |
| Switches: | Cherry MX Red |
| RGB: | Per-key, Blue LED backlighting, 87 keys |
| Connection: | 1ms 2.4GHz gaming-optimized wireless, USB also |
| Weight: | 2.4 lbs. |
| Software: | CORSAIR Utility Engine (CUE) |
| Hot Key: | Dedicated media keys, game mode button |
| | |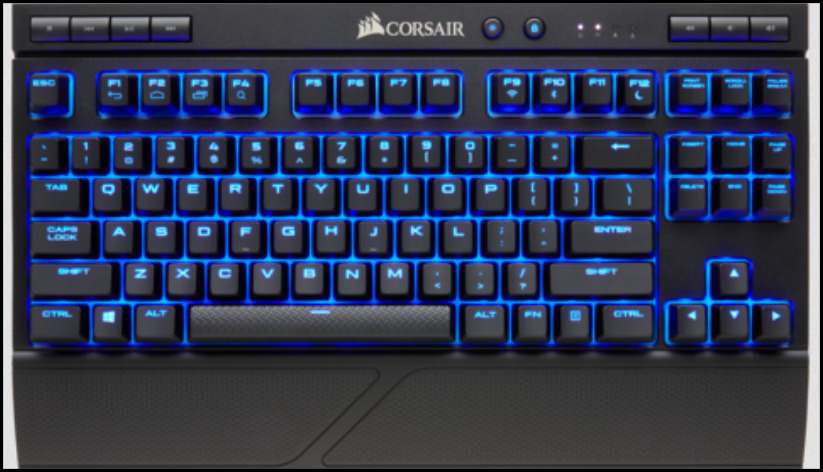 The CORSAIR Utility Engine (CUE) software allows you to assign specific macros to any key and lets you customize for dynamic lighting effects. Corsair says the keyboard has up to 15 hours of battery life and the wrist rest is detachable as well.
What's nice about the Corsair K63 wireless keyboard?
First of all, it is wireless which makes it easy to move around and is portable.
It is compact in design with a nice key click feel since it uses Cherry MX switches.
It has a solid feel and good build quality.
The option of using a USB connection if needed.
Purchase the Corsair K63 wireless from my affiliate link which provides a small percentage back to me if you do.
Summary
Your choice of the best gaming keyboards under $100 certainly depends on your preference. I provided two great options that I like, one wired and one wireless. The Lenovo K500 keyboard and the Corsair K63 both use mechanical switches, have compact designs, and have a great feel to them. Solid build quality and a variety of options as far as game mode and RGB lighting are standard with both these models. The choice is yours, do you want a wired or wireless gaming keyboard?