Are you in the market for a new business laptop? We have the best. In this article, we will be discussing the top 4 best business travel laptops.
So whether you are looking for a powerful laptop that can handle intensive tasks or a sleek and lightweight model that is easy to carry around, we have got you covered. Keep reading to learn more about the best business laptops!
And if you want to know about the top Lenovo laptops or shop accessories, I've got you covered in my other articles as well. Plus, see my guide on how to choose a laptop for seniors.
THIS POST MAY CONTAIN AFFILIATE LINKS. As an Amazon Associate, I earn from qualifying purchases. PLEASE READ MY DISCLOSURE FOR MORE INFO.
These laptops are sure to help you get the job done, whether you're a traveling executive or a remote worker. Let's get started!
The Best Business Laptops: Our Top 4 Picks
Now that we have covered who may need the best business laptop, let's take a look at our top four picks for the year. These laptops are some of the best on the market, and they offer something for everyone.
Here is a look at our top picks:
1.

Lenovo ThinkPad X1 Carbon Gen 10 – Our Top Pick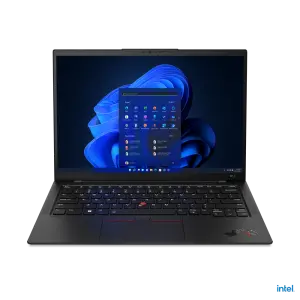 Lenovo is known for its quality of laptops, including its line of business laptops, which has made them a desired brand for businesses of all sizes.
The Lenovo ThinkPad X1 Carbon Gen 10 is both lightweight and portable which is ideal for travelers, but it also is powerful with the latest Intel processor inside. The 10th Generation is one of the lightest 14-inch laptops in the world, weighing just 2.48 lbs. while featuring up to 4K WQUXGA touch or 2.8K OLED display options, long battery life, and an excellent keyboard. This is everything a laptop should be.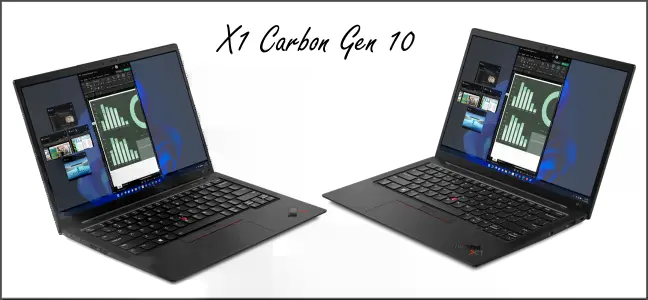 The Thinkpad X1 Carbon Gen 10 Specs

:
CPU: The Intel 12th. generation i5/i7 processor.
RAM: Either 8GB, 16GB, or 32Gb RAM soldered to motherboard. Type LPDDR5-5200.
Storage: PCIe NVMe, PCIe 4.0 x4 – Up to 2TB M.2 2280 SSD.
Display: 14.0″ 4K WQUXGA touch, or 2.8K OLED, or WUXGA IPS 400 nits, 16:10
Graphics: Intel Iris Xe Graphics.
Size: 12.43 x 8.76 x 0.59 inches (15.6 x 222.5 x 14.95 mm) 2.48lbs. (1.12 kg).
Battery: Integrated Li-Polymer 57Wh battery with rapid charge.
Ports: 2x Thunderbolt 4 / USB4™ 40Gbps, 2x USB 3.2 Gen 1, 1x HDMI, 1x Combo port.
Reasons To Buy

:
Excellent battery life.
16:10 display, wider touchpad, larger battery, and rear venting.
Wi-Fi 6E AX211, 802.11ax 2x.
New ComputerVision Experiences (CVx) is a human presence detection sensor. Unlock your laptop with your presence.
New security includes Tile tracking technology which allows you to find your laptop using your phone.
New Communications Bar – A higher resolution FHD camera with optional infrared (IR) and Computer Vision features
Ultrathin & ultralight redesigned chassis.
Dual fan and new rear exhaust ventilation for improved cooling.
Tested against the DoD's military-grade requirements. MIL-STD-810H military test passed.
Downsides

:
Can be expensive with all the options, but well worth it.
Why You Should Consider Buying A Thinkpad X1 Carbon

:

The Lenovo ThinkPad X1 Carbon is the perfect laptop for business travelers. It's lightweight and portable, but it also features a powerful Intel processor and long battery life. Plus, it comes with a number of great features that make it perfect for business use, such as a 16:10 display and a backlit keyboard. So if you're looking for a great laptop that can handle all your business needs, the Lenovo ThinkPad X1 Carbon is a perfect choice!

The Thinkpad X1 Carbon Gen 10 is great for work or every day. It is lightweight with the best keyboard feel Lenovo has ever made and the display is vibrant and clear.

Want to dive a little deeper? I have a whole article covering the specs and models of the X1 Carbon laptop, including how to upgrade it if needed.
---
2.

HP EliteBook x360 1040 G8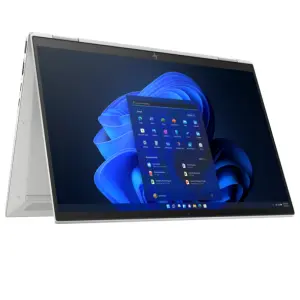 HP sells a line of laptops with business in mind. The EliteBook x360 1040 G8 is ideal for professionals who want an all-in-one device that can handle work tasks and entertainment needs with ease.
It's loaded with features like a 14-inch display, Intel 11th gen processor, 16GB of RAM (soldered), and up to 1TB SSD. It's built for the long haul with impressive battery life. Best of all, HP has included plenty of security options to keep your data safe from prying eyes – even on public WiFi networks.
The HP EliteBook x360 1040 G8 Specs

:
CPU: The Intel 11th. generation i5/i7 processor.
RAM: 16GB RAM soldered to the motherboard.
Storage: PCIe NVMe TLC SSD
Display: 14″ diagonal, FHD (1920 x 1080), touch, IPS, anti-glare, 1000 nits
Graphics: Intel Iris Xe Graphics.
Size: 12.57 x 7.98 x 0.65 in. – 2.9lbs.
Battery: HP Long Life 4-cell, 54 Wh Li-ion polymer.
Ports: 2 Thunderbolt 4 / USB4 Type-C 40Gbps; 2x SuperSpeed USB Type-A 5Gbps; 1 headphone/microphone combo; 1 HDMI 2.0
Reasons To Buy

:
89-percent screen-to-body-ratio display.
HP Wolf Security for Business creates a hardware-enforced, always-on, resilient defense.
Gigabit-speed Wi-Fi 6 connectivity with optional 5G.
HP Sure View Reflect makes the screen appear unreadable when viewed from the side.
HP Context Aware provides AI-based optimization to maximize performance when you're working.
Downsides

:
The downsides of the HP EliteBook x360 1040 are that it is a bit heavier than other laptops on the market and doesn't have as many ports.
Overall, the HP EliteBook x360 is a great device for business or personal use. It's powerful with plenty of security features and a great display. If you need a 2-in-1 laptop with a touchscreen, you should get yourself an HP EliteBook x360.
---
3.

Acer TravelMate P6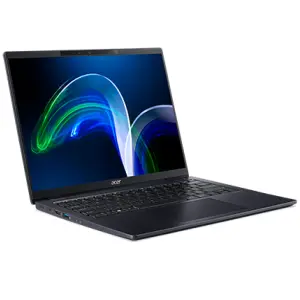 The Acer TravelMate P6 14″ laptop is a great choice for business or enterprise use. It's slim and durable with feather-light weight, and it delivers first-class results with its powerful 11th Gen Intel Core i7 processor.
It also has numerous security and management features, making it an ideal choice for on-the-go productivity. Plus, its sleek aluminum-magnesium alloy body is just 16.88mm thin and weighs as little as one kilogram, making it the perfect choice for on-the-go professionals.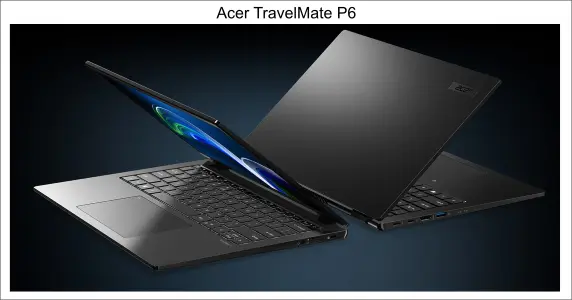 The Acer TravelMate P6 Specs

:
CPU: Up to the Intel 11th. generation i7 processor.
RAM: Up to 32GB LPDDR4x RAM.
Storage: Up to 1TB of M.2 PCIe Gen3 X4 NVMe SSD.
Display: 14″ FHD+ IPS display with 100% sRGB, 16:10 aspect ratio.
Graphics: Intel Iris Xe Graphics.
Size: 12.3 x 8.9 x 0.66 in. – 2.20lbs.
Battery: 20 Hour Lithium-Ion (Li-Ion).
Ports: 2x Thunderbolt 4 / USB4 Type-C 40Gbps; USB 3.2 Gen 2 Type-A and Type-C; 1 headphone/microphone; 1 HDMI 2.0.
Reasons To Buy

:
Acer PrivacyPanel obscures viewing angles to protect your screen.
MIL-STD 810H certified to withstand all the rigors of business travel.
Battery fast charge technology to get back up to 80% capacity in just an hour.
Acer User Sensing technology – "allows for accurate detection of people based on range and movement."
Built for conference calls with its dual upward speakers and a dual microphone array.
Corning Gorilla Glass Touchpad.
Downsides

:
This is a solid business laptop with great state-of-the-art features, however, it may be more than some want to pay.
So if you're looking for a great business laptop that's slim, lightweight, and powerful, the Acer TravelMate P6 is definitely worth considering!
---
4.

Lenovo Thinkpad T15 Gen 2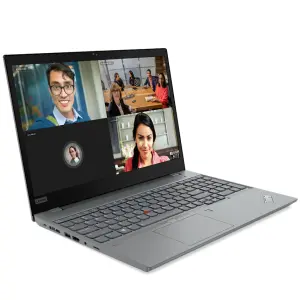 The Thinkpad T series has been around for a while and is considered a classic in the business laptop world. The latest edition, the Lenovo Thinkpad T15 Gen 2 is a powerful 15″ machine that offers great features for both work and entertainment.
It comes with an Intel 11th Gen processor, up to 48GB of memory, and plenty of storage space. Plus, it has a long battery life so you can stay productive all day.
The Lenovo Thinkpad T15 Gen 2 Specs

:
CPU: Up to Intel 11th Gen processor.
RAM: Up to 48GB DDR4 RAM.
Storage: Up to 1 TB PCIe SSD.
Display: Up to 15.6″ UHD (3840 x 2160) IPS, anti-glare with Dolby Vision, HDR 400, 600 nits.
Graphics: Intel Iris Xe or Intel UHD Graphics.
Size: 14.4" x 9.76" x 0.75" in – weight starts at 3.86lbs.
Battery: 3 Cell 57Whr Internal Battery.
Ports: 2x Thunderbolt ports, USB Type-C, 2x USB-A 3.2 Gen 1, HDMI, Ethernet.
Reasons To Buy

:
Display options include a touchscreen or a bright Dolby Vision UHD panel for a vibrant visual experience.
Gigabit-speed Wi-Fi 6 connectivity.
MIL-STD 810G certified.
ThinkShield built-in security.
ThinkShutter – a physical webcam cover to help protect your privacy.
Downsides

:
Some thought the display could be a little better/brighter.
So consider a Thinkpad series of laptops for your business needs, and if you want a powerful machine that's built to last, the Thinkpad T15 Gen 2 is definitely worth considering.
Why These 4 Laptops Were Chosen
A business-class laptop must have good security, a strong and robust design, and a pleasant keyboard that provides a good typing experience. It also has to be small enough to fit in your briefcase for use on the road.
These 4 laptops on this list all fit the bill, and they each have their own unique selling points that might make them the best business laptop for you.
Who Needs the Best Business Travel Laptop?
The best business travel laptops are perfect for anyone who needs a powerful and reliable laptop for work.
Whether you are a traveling executive, remote worker, or small business owner, these laptops will help you get the job done.
They are packed with features that make them perfect for business use, such as powerful processors, long battery life, and sleek designs.
These laptops are sure to meet your needs, no matter what type of work you do.
Business Laptop Buying Guide
So which laptop is the best one for business? The answer to that will depend on you and your needs. Some may prefer a lighter laptop that is easy to carry while traveling. Others may want a larger screen and more robust components for power work.
You'll need to consider what tasks you'll be using the laptop for, what software you need to run, and how much you're willing to spend.
I've done the research and selected these top 4 business laptops that I believe will appeal to everyone.
How To Buy A Laptop For Your Business
For a deeper dive, check out my laptop buying guide where I tell you what to look for and explain the internal components to empower you to make an informed decision. And after that, read about 7 ways to save money on your next laptop.
Recommended System Requirements
A business laptop's requirements will usually be a little higher than an average home laptop because they need to handle more strenuous tasks. That being said, most of the newer laptops on the market will be able to handle mainstream office software and some light gaming.
The recommended system requirements for a business laptop are

:
Operating System: Windows or macOS
Processor: Intel 11th Gen or AMD Ryzen
RAM: At least 16GB
Hard Drive: 512GB SSD
Display: 15-inch FHD IPS
Graphics: Intel HD Graphics or better
If you're looking for a good business laptop, the above specs should be your starting point. But don't forget to tailor them to your specific needs – for example, if you need to run specialized software that requires more powerful hardware.
What's The Best Size For A Business Laptop?
The ideal size for a business laptop is 14 to 15 inches. This offers the best combination of portability, screen space, and battery life. Some laptops in this size range also offer dedicated graphics cards so you can play some games on your time off from work too.
Why Business Laptops Are More Expensive
The reason business laptops are usually more expensive is their robust construction and high-quality materials. They're usually sturdier too because they may be carried around in bags all day long. They also come with features that you might find useful for work, such as fingerprint readers.
Are Business Laptops Durable?
Not all business laptops are as tough and durable as others. The ones on this list are selected for their construction quality. The ThinkPad series for example are certified to a high military standard for ruggedness and can withstand some drops and knocks.
But if you're looking for an even more durable laptop, there are a few that come with Gorilla Glass screens that can resist scratches and cracks.
What's The Difference Between Business Laptops And Home Laptops?
The main differences between the two are durability and security. Home laptops usually have less durable designs, and they tend to be less secure than business models.
That's not to say you can't use a home laptop for work purposes, but a business laptop will give you better peace of mind in terms of security and ruggedness when carrying it around with you all day long.
What Is A Business Laptop?
A business laptop is simply a laptop designed for business use. They're built to be durable, secure and offer the best possible performance while on the go.
Is A Business Laptop Worth It?
This will depend on what you need it for, but if you want a laptop that's reliable and built to last – then yes they are worth it.
What Is A Home Laptop?
A home laptop usually has less memory and hard drive space, built for light work tasks such as checking email and browsing the internet.
A home laptop is not designed with security in mind and will usually have less durability than a business laptop.
Sneak Peek At The New Thinkpad Z Series
The ThinkPad Z series was released in the Spring of 2022.
The ThinkPad Z Series laptops are the newest offerings from Lenovo and are some of the best business laptops you can buy starting in Spring 2022. They boast features like Windows 11, AMD Ryzen PRO technology, and recycled materials. They're also built to withstand extreme conditions, making them a great choice for business travelers. Plus, they come in two sizes to fit your needs, the Z13 is a 13.3″ and the Z16 is a 16″ laptop.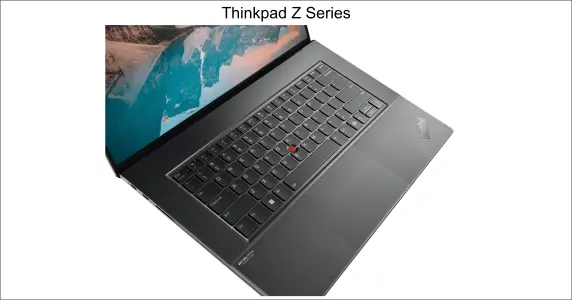 They use Recycled Vegan Leather, Recycled Aluminum, and a Glass ForcePad.
So if you're looking for a great business laptop that's built to last, the ThinkPad Z Series is a great option to look at. Stay tuned for more information to come.
Best Business Laptops – Summary
Overall, there are many great business laptops available to choose from. It all depends on what features and capabilities are important to you as well as your budget. Hopefully, this best business laptop guide has helped you narrow down your choices and find the best one for your needs.
If you're looking for my top pick, I recommend you select the Thinkpad X1 Carbon Gen 10. It is the best laptop available.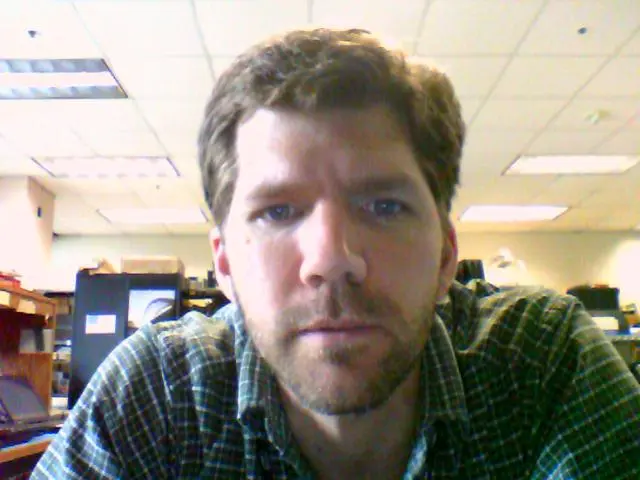 J.S. is the owner, content creator, and editor at Upgrades-and-Options.com. I've worked in the IT and Computer Support field for over 20 years. The server hardware in my computer labs has mostly been IBM, but I've supported Dell, HP, and various other hardware. In addition, as part of my lab administrator responsibilities, I've learned, supported, and repaired/upgraded network hardware such as Cisco routers and switches. READ FULL BIO >>