World's First 5G PC1 is Here
It seems as if we've been waiting to get our hands on some new hardware with 5G capabilities. By we I mean everyone who likes to learn about new innovations. 5G is of course the latest offering in cellular communications. It is not just a step beyond 4G, it's a giant leap. The biggest increase will be in speed, it should deliver close to broadband like speed.
But this article is not going into depth on 5G, it's talking about the introduction of the new Lenovo Yoga 5G laptop. See below on it's specs and size and screen..
All very lightweight which makes sense. With 5G on-board you would think this laptop would keep as much in the cloud as possible and/or stream what is needed.
The following is from Lenovo Press Release:
People use technology to bring about change or make their lives easier, whether you're helping to save the world or simply saving an email for later. These different user needs and customer insights are what power the new experiences we create. At Lenovo, we believe in faster, better, simpler, safer, and smarter technology for all, and at this year's CES, we're introducing a number of new consumer innovations including the Yoga™ 5G 2-in-1 convertible laptop, the Yoga Slim 7 laptop, the 2-in-1 IdeaPad™ Duet Chromebook®, and the IdeaPad Flex 5 Chromebook.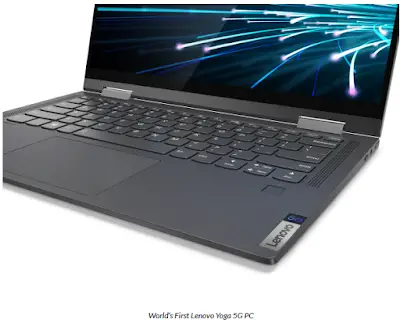 The Lenovo Yoga 5G is an ultra-portable 2-in-1 laptop and the first-ever PC powered by the Qualcomm® Snapdragon® 8cx 5G Compute Platform. It delivers high-speed 5G network connectivity, that's up to 10 times faster than 4G, through a 5G service provider2 when on the move and reliable WiFi access at home.
2 Requires 5G network service and separately purchased cellular data plan that may vary by location. Additional terms, conditions and/or charges apply. Connection speeds will vary due to location, environment, network conditions and other factors.
Go Faster with World's First Lenovo Yoga 5G PC1
The Lenovo Yoga 5G is the world's first 5G PC1. Supporting both millimeter wave full-band and sub-6GHz 5G networks, this ground-breaking device is capable of satisfying your need for speed with ultra-fast connectivity, reduced latency, and wider bandwidth. Download large files instantly or stream a high-resolution video with true Full HD clarity even in highly populated areas like airports with 5G.2
First previewed at COMPUTEX as Project Limitless, this ultra-portable 2-in-1 laptop is the first-ever PC powered by the Qualcomm® Snapdragon® 8cx 5G Compute Platform, bringing you high-speed 5G network connectivity that's up to 10 times faster than 4G through a 5G service provider2 when on the move and reliable WiFi access at home.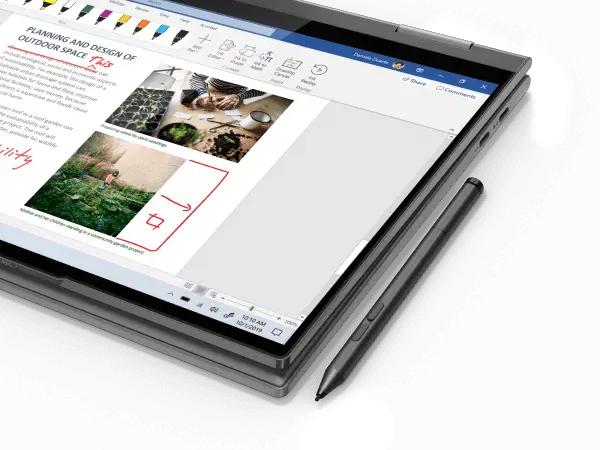 Need to edit video footage in real-time on set and then upload the finished film? Or how about faster screen refreshes for smoother mobile gaming? Or downloading a movie before a trip? It's all possible with lightning-fast download speeds of around 4Gb/s3 supported by nine built-in antennas for a stronger signal.
At 2.86lbs (1.3kg), the Yoga 5G is effortlessly portable. Mobile multi-taskers and digital natives will enjoy the mobility of a smartphone without a WiFi connection or a hotspot2 as they fly through tasks thanks to the familiarity of their PC's productivity features. Once you log in with a hands-free infrared (IR) camera or integrated fingerprint reader, you're good to go for up to 24 hours (a full day!) of battery life.4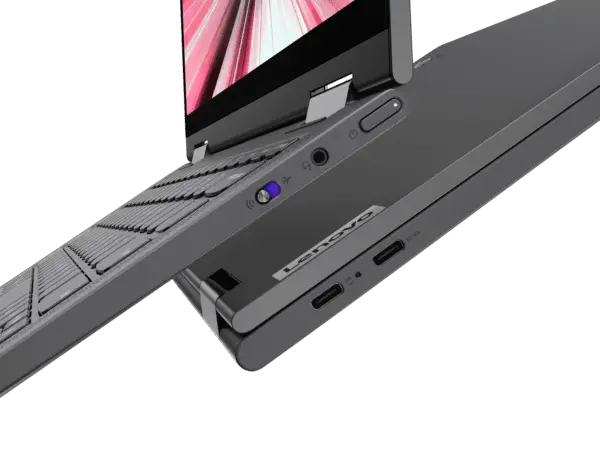 The 14-inch Full HD IPS touch display offers 400 nits brightness with narrow bezels on all sides, enabling expansive views of all your favorite streaming shows which you'll enjoy in stunning clarity from anywhere.
Powerful Qualcomm Adreno® 680 graphics and user-facing stereo speakers powered by Dolby Atmos® complete your entertainment experience. Offering twice the performance of the previous generation compute platform, the Snapdragon 8cx 5G Compute Platform lets you create, edit and multitask on the Yoga 5G at a fraction of the power consumption. Paired with a digital pen and Windows 10, the Yoga 5G is designed to supercharge your productivity. Additionally, the Yoga 5G's software-enabled intelligent temperature control feature adjusts performance depending on your activities, keeping your laptop cool and eliminating the need for a noisy fan.
5G technology will change entire industries as we know them, disrupting some while helping to launch others. Expect Lenovo PCs like the Yoga 5G to continue delivering more robust support for productivity and collaboration applications.
The Yoga 5G will be available in Spring 2020, starting around US$1,499 – find out more here.
See the complete Press Release here. 
Another impressive laptop innovation from Lenovo with Qualcomm. It's a nice laptop on it's own but with 5G I think buyers will give this a serious consideration.
I like the Yoga line of laptops, even with limited experience with them. Their 2-in-1 configuration, touch screen and ultra-portability are compelling reasons to have one. I'll have to wait and see how they sell once they are released. 5G technology is going to change just about everything in regard to our day to day lives. Of course, most of us will have to wait a little while longer until 5G continues to be rolled out.
1 Based on research conducted by Lenovo in November 2019 of laptops sold by major PC manufacturers shipping > 1 million units worldwide annually.
3 Download speeds vary by region and service provider, e.g. Verizon in US offers up to 4Gbs/second. Network strength also varies by 5G service provider.
4 Up to 24-hours based on local video playback conditions and requires unit configured with Qualcomm Snapdragon 8cx 5G Compute Platform. All battery life claims are approximate. Actual battery performance will vary and depend on numerous factors including product configuration and usage, software, operating conditions, wireless functionality, power management settings, screen brightness and other factors. The maximum capacity of the battery will naturally decrease with time and usage. 
LENOVO, YOGA and IDEAPAD are trademarks of Lenovo. CES is a trademark of the Consumer Technology Association. CHROME OS, CHROMEBOOK, GOOGLE PLAY, YOUTUBE and GOOGLE ASSISTANT are trademarks of Google LLC.  Qualcomm, Snapdragon and Adreno are trademarks of Qualcomm Incorporated, registered in the United States and other countries. Qualcomm Snapdragon and Qualcomm Adreno are products of Qualcomm Technologies, Inc. and/or its subsidiaries