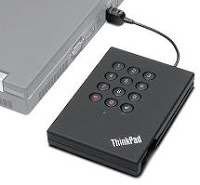 Data security is an important issue in today's world and Lenovo's latest offering provides both security and portability. The Lenovo USB portable secure hard drive is a small, lightweight and easy to use data protection device.
It is available with either 160GB or 320GB hard drives, USB 2.0 and full disk 128bit encryption. It has standby, admin and user modes which are accessed through the numeric keypad on the case. The device's default mode is standby when plugged into a USB port and is also locked which means the computer does not recognize it yet. Simply enter either the admin password or one of 10 programmable user passwords to unlock the device and make it ready for use.
If the drive does get stolen and someone attempts to reset the device, all the data becomes inaccessible and is erased. Both are on the pricey side;the 160GB is $179 and the 320GB is $219; but just might be worth it for the security they provide.
ThinkPad USB Secure Hard Drive – 160GB — P/N 43R2018
ThinkPad USB Secure Hard Drive – 320GB — P/N 43R2019
UPDATE:  New drive available..
  2TB external USB 3.0 drive
Features and Benefits as listed from Lenovo.com:
* High-speed USB 2.0 Interface
* Compact size
* No requirement for an ac power adapter
* Driverless operation under Microsoft Windows XP and Vista
* All stored data is fully encrypted using the high level AES 128-bit security encryption
* Shock-mounted 320GB 5400 rpm hard drive
* Built-in USB cable with an integral storage slot
* Integrated high quality metal dome switch keypad for entering a 6 to 24 digit password for up to 10 user and 1 administrator ID
* USB extension cable for more flexible distance configurations
* Supplemental USB power cable to ensure adequate USB power
* Attractive protective carrying case
* Non-skid anti-vibration pads
* High quality ThinkPad soft touch paint
* Multi-colored LED device status indicator