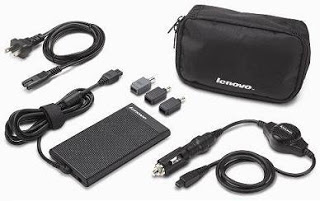 Lenovo Laptop Charger
If you travel frequently with your Thinkpad you know well the aggravation and discomfort of lugging around a computer bag full of weighty items. Even if you own an ultraportable notebook the accessories that accompany it can be bulky and not easily packed.
Lenovo now offers a multi-purpose AC/DC power adapter to make life a little easier. The Thinkpad and Lenovo 90W Slim AC/DC Combo Adapter
supplies power to your Thinkpad and charges the battery at the same time. The adapter plugs into a standard AC wall outlet, an automobile power plug or an airplane in-flight power connector.
The thin slim-line adapter is easy to carry and weighs just under a pound. Included interchangeable connector tips provide 20v or 16v output and an option is available to power your notebook as well as another device such as a cell phone simultaneously.
The price for the adapter is $119.95 and includes a carry pouch, AC and DC cables and the voltage tips to power different notebooks.
The specs from Lenovo.com
P/N —————– 41N8460
Depth Metric ——- 143.5 mm
Height Metric —— 15.5 mm
Height US ———– 0.610 in
Weight Metric[2] — 0.430 Kg
Weight US[2] ——- 0.95 lbs
Width Metric ——- 78.0 mm
Width US ———– 3.071 in