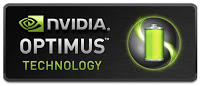 ThinkPad T410, T510 and T410s now are equipped with NVIDIA NVS 3100M graphics
with Optimus technology. This technology automatically switches between the Nvidia graphics chip for high graphics performance and the integrated Intel graphics chip for longer battery life. So no longer is there a need to manually switch between graphics chipsets to fit you're need. The Thinkpad recognizes when more GPU is required or when it can save on battery life and switches seamlessly without user interaction.
Check out the video: LenovoVision
Note: The NVIDIA NVS 3100M is pretty much an entry level graphics card as far as gamers are concerned. It has relatively low 3D performance capable for most of the lower end type games taht don't require high end rendering or resolution.