Gaming laptops can be expensive, but they offer excellent performance for immersive gaming and productivity. But what if you could get the same experience without breaking the bank? That's where Lenovo LOQ 16APH8 Gaming Laptop comes in.
With its powerful AMD Ryzen processors, NVIDIA graphics card, expansive ports, and sleek design, Lenovo has upped its game in the budget gaming laptop market.
In this blog post, we'll take a closer look at Lenovo LOQ 16APH8 Gaming Laptop and explore all its features and capabilities.
THIS POST MAY CONTAIN AFFILIATE LINKS. As an Amazon Associate, I earn from qualifying purchases. PLEASE READ MY DISCLOSURE FOR MORE INFO.
Performance Overview of Lenovo LOQ 16APH8 Gaming Laptop
The Lenovo LOQ 16APH8 Gaming Laptop is a high-performance machine designed for exceptional gaming experiences. It boasts an array of powerful components and features that ensure smooth, lag-free gameplay and stunning visuals.
Powerful Processing
At the heart of this laptop are the AMD Ryzen 5 7640HS and Ryzen 7 7840HS processors. These processors offer:
6 to 8 cores for efficient multitasking and high-speed performance.
A maximum frequency of up to 5.1 GHz, ensures quick response times even in demanding games.
High-Performance Graphics
The laptop's visual performance is driven by NVIDIA GeForce RTX 3050, 4060, and 4050 graphics cards. These provide:
Up to 8GB GDDR6 memory for fluid rendering of complex game graphics.
Support for high-resolution gaming without compromising speed or detail.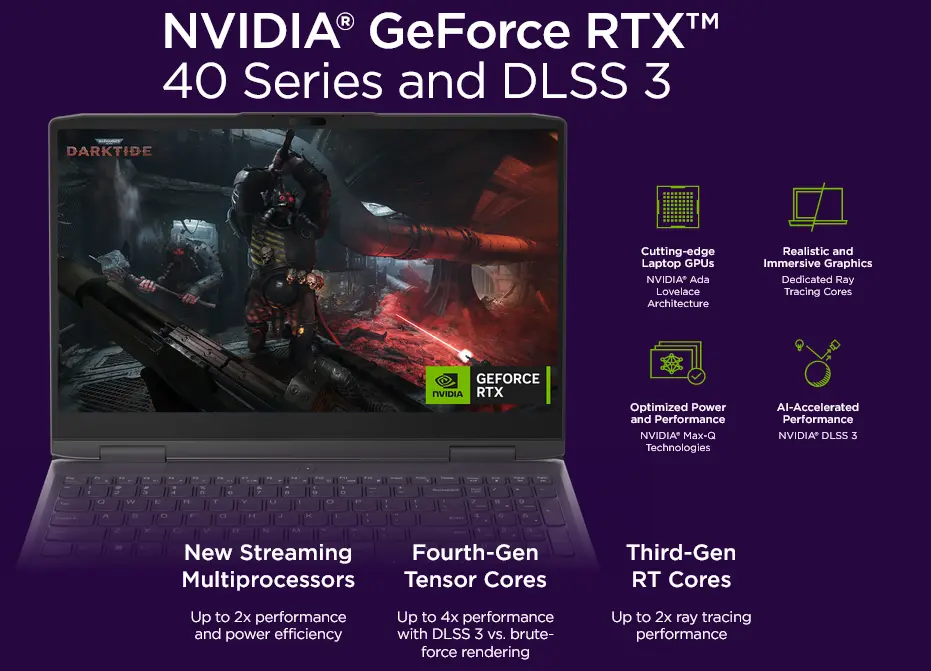 Generous Memory and Storage
The Lenovo LOQ 16APH8 also offers ample memory and storage options for smooth gaming and quick load times:
Up to 16GB DDR5-5600 memory, allowing for efficient handling of large game files and multiple applications.
Support for up to two M.2 SSDs (up to 1TB each) for fast, reliable data access and storage.
Exceptional Gaming Experience
With these high-performance specifications, this gaming laptop enables you to:
Play any game without interruptions or lag, ensuring an immersive and enjoyable gaming experience.
Appreciate every detail of your games with high-quality graphics and a refresh rate of 144-165Hz, providing smooth, crisp visuals.
Buy From Amazon
Design Overview of the Lenovo LOQ 16APH8 Gaming Laptop
The Lenovo LOQ 16APH8 Gaming Laptop boasts a sleek and functional design tailored to enhance your gaming experience. Here are its key design features:
Stunning Display
The centerpiece of this laptop is its 16-inch IPS display which provides:
A choice of resolutions, either 1920×1200 or 2560×1600, to suit your specific gaming preferences.
A refresh rate of 144-165Hz, ensuring smooth and fluid gameplay.
A brightness level of 350 nits, delivering clear and vibrant visuals.
Anti-Glare Finish
For added comfort during extended gaming sessions, the display features an anti-glare finish. This allows you to play games without strain, even in brightly lit environments.
Lightweight and Portable
Despite its powerful components, the Lenovo LOQ 16APH8 maintains a lightweight and slim profile:
Weighing approximately 2.6 kg, it's easy to transport, making it ideal for on-the-go gaming.
With a thickness ranging from 21 to 25.9 mm, it's impressively slim for a high-performance gaming laptop.
Related: Game On: Finding the Perfect Gaming Headset for Your Needs
Input Devices of Lenovo LOQ 16APH8 Gaming Laptop
The Lenovo LOQ 16APH8 Gaming Laptop is equipped with highly responsive and user-friendly input devices designed to enrich your gaming experience. Here are the key input devices incorporated into this laptop:
Keyboard:
The laptop features a signature gaming keyboard that has been crafted for ergonomic excellence. This full-sized, backlit keyboard provides:
1.5mm key travel for comfortable and accurate typing.
Multimedia function keys for quick access to common commands.
A numeric keypad for easy data entry or game commands.
100% anti-ghosting technology ensures that every keypress is accurately registered, even during intense gaming sessions.
Touchpad:
The touchpad on the Lenovo LOQ 16APH8 allows for precise cursor control and supports multi-touch gestures for efficient navigation. It's large enough to provide a comfortable user experience while maintaining the overall compactness of the laptop.
Ports:
For additional input options, the laptop offers several ports to connect peripherals like gaming mice, joysticks, or external keyboards. These include USB 2.0, USB 3.2 Gen 2, USB-C 3.2 Gen 2, and an HDMI port.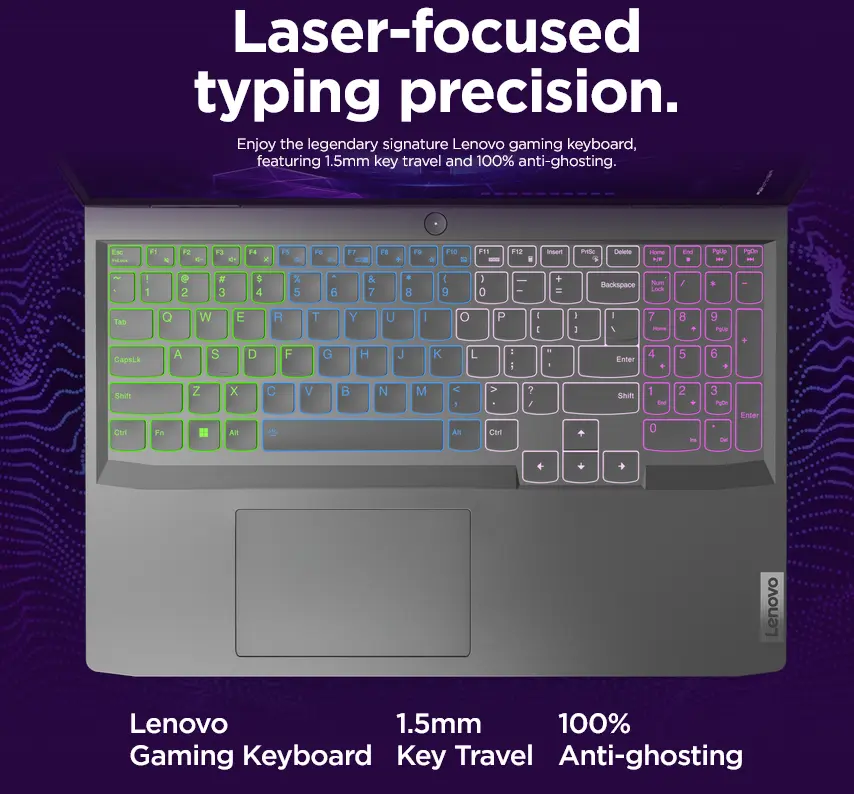 Connectivity Features of the Lenovo LOQ 16APH8 Gaming Laptop
The Lenovo LOQ 16APH8 Gaming Laptop offers a range of comprehensive connectivity options to ensure an optimal gaming experience. Here's a rundown of its key connectivity features:
High-Speed Internet Access
The laptop supports Wi-Fi 6, offering a fast and stable internet connection. This ensures smooth online gaming and quick downloads. In addition, it also includes an Ethernet port for wired network connections.
Seamless Peripheral Connection
The laptop is equipped with a variety of USB ports:
One USB 2.0 port for connecting older peripherals.
Two USB 3.2 Gen 2 ports for high-speed data transfer.
One USB-C 3.2 Gen 2 port, offering versatility in connecting a wide range of modern devices.
Audio and Video Output
For high-quality video and audio:
An HDMI 2.1 port allows you to connect the laptop to external displays, supporting up to 8K resolution for immersive gaming on larger screens.
A headphone jack provides clear audio output for headphones or speakers, enhancing your gaming auditory experience.
Power Connection
A dedicated power connector ensures that your laptop stays powered during intense gaming sessions.
Security and Warranty
The Lenovo LOQ 16APH8 Gaming Laptop is designed with a strong emphasis on security, offering several features that safeguard your data and ensure device integrity. At the same time, it provides a robust warranty policy to protect your investment.
Comprehensive Security Measures
Lenovo understands the crucial importance of data security in today's digital age. To this end, the LOQ 16APH8 Gaming Laptop incorporates several robust security features:
Trusted Platform Module (TPM) 2.0: This hardware-based security feature protects your data by encrypting keys and passwords, thereby enhancing the overall system integrity and providing a secure environment for your operating system.
Administrator Password Protection: This feature prevents unauthorized access to your laptop's BIOS settings, adding an extra layer of security to your device.
Hard Disk Password Protection: By setting a hard disk password, you can restrict access to your data, making it difficult for unauthorized users to access your sensitive information even if the hard drive is removed from the laptop.
Solid Warranty Coverage
To provide peace of mind and assure you of the product's quality, Lenovo offers a comprehensive warranty policy for the LOQ 16APH8 Gaming Laptop:
Battery Warranty: Lenovo provides a warranty for up to 3 years on the battery, covering any manufacturing defects or faults that may arise during this period.
System Board Warranty: The system board comes with a warranty of up to 2 years. This covers any malfunctions or manufacturing defects, ensuring that you have a smooth and uninterrupted gaming experience.
Environmental Specifications and Certifications
The Lenovo LOQ 16APH8 Gaming Laptop is designed to perform optimally in a wide range of environmental conditions. It also boasts several eco-friendly certifications, which underscore its commitment to sustainability and user safety.
Operating and Storage Conditions
This laptop has been engineered to withstand diverse environmental conditions:
Operating Temperature: The laptop can function effectively in temperatures ranging from 5 to 35 degrees Celsius, ensuring reliable performance across different climates.
Storage Temperature: Its robust design allows it to be stored safely in temperatures between 5 to 43 degrees Celsius.
Humidity Tolerance: It can operate in humidity levels ranging from 8% to 95%, making it suitable for use in both dry and humid environments.
Altitude Limit: The laptop can function up to an altitude of 10,000 feet, offering dependable performance even in high-altitude locations.
Eco-Friendly and Safety Certifications
The Lenovo LOQ 16APH8 Gaming Laptop holds several certifications that demonstrate adherence to environmental and safety standards:
ErP Certification: This certifies that the laptop meets the energy efficiency requirements set by the European Union's Energy-related Products Directive.
RoHS Compliance: Being RoHS compliant means the laptop is free from certain hazardous substances, contributing to environmental sustainability and user safety.
TUV Rheinland Low Blue Light Certification (optional): This optional certification indicates that the laptop's display reduces harmful blue light emissions, thereby ensuring a safer viewing experience for users.
Conclusion
Lenovo LOQ 16APH8 Gaming Laptop is a powerful gaming device that offers gamers a highly optimized and enhanced gaming experience.
With its powerful features and specifications, Lenovo LOQ 16APH8 is capable of running any game with ease.
The laptop's design and portability make it an ideal device for gamers who want to take their gaming wherever they go.
With ample connectivity options, great security features, and environmental certifications, the Lenovo LOQ 16APH8 Gaming Laptop is a great investment for anyone who loves gaming, and it's an excellent addition to Lenovo's gaming collection.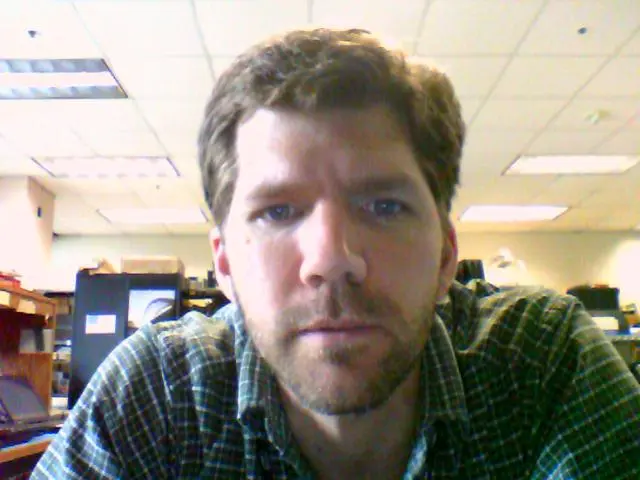 J.S. is the owner, content creator, and editor at Upgrades-and-Options.com. I've worked in the IT and Computer Support field for over 20 years. The server hardware in my computer labs has mostly been IBM, but I've supported Dell, HP, and various other hardware. In addition, as part of my lab administrator responsibilities, I've learned, supported, and repaired/upgraded network hardware such as Cisco routers and switches. READ FULL BIO >>