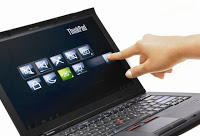 The future of laptops will include a capacitive touch screen. Lenovo's SimpleTap technology enables quick and easy access to hardware controls by simply touching on-screen tiles. This menu of tiles is user configurable and can adjust such things as the ThinkLight, volume controls, screen brightness. The technology is available today for the Thinkpad X200 Tablet and the Thinkpad X400s, both of which feature a multitouch display.
Lenovo's website show a demo of the technology.
The software reached end of life.