Do you ever wish you could take your Xbox gaming experience on the go? Well, with a laptop, you can. In this article, we show you two ways to use a laptop as a monitor for an Xbox One, so you can play your favorite games anywhere.
There are two ways to use a laptop as a monitor for Xbox One. The first is the easiest but requires your laptop to have an HDMI IN port. The second option relies on connecting both devices to your home internet.
2 Options To Use Your Laptop As A Monitor For Xbox One
The first option to connect a laptop monitor to an Xbox is not as common, most users will want to jump down to option number 2 below.
1) Connect Xbox To Laptop's HDMI IN Port
I mentioned this is the easier of the two ways to connect an Xbox One to a laptop. It is also most likely not going to work for most people, sorry to say.
That is because by far, the majority of laptops do not have an HDMI IN port. I'm not saying your laptop doesn't have an HDMI port, I'm saying it is probably an HDMI OUT port.
Check your laptop's specifications or visit the manufacturer's support site to find out which type of HDMI port you have.
I've included a list of laptops with HDMI IN. This is not comprehensive, but the only one's I'm aware of. They are older Alienware laptops.
Not surprisingly they are gaming laptops:
Alienware
M17xR3
M17xR4
17 R1
M18x
M18xR2
18
So, if you have verified your laptop has an HDMI IN port, refer to the following instructions on how to make the connections.
Shut down the Xbox One.
Connect your HDMI cable to both the Xbox and your laptop's HDMI IN port.
Power on the Xbox. The laptop should detect the new connection. You may need to press the FN+F8 (External HDMI Input Toggle – to switch between external HDMI input sources).
Configure the Xbox display in 'system settings' if needed to adjust the resolution.
Also read: Portable External Monitors: Worth It? How to Choose
2) How To Use Game Streaming In Xbox One And A Laptop
Game streaming is an option that allows you to play Xbox One games remotely on your Windows 10 laptop, using your home network. Can you use a laptop as a monitor for Xbox one? You can with streaming.
Using this feature, the Xbox One console still manages the game, while your laptop becomes a remote second screen. This allows you to play anywhere as long as the laptop is in range of and connected to your home network.
This is important, both the Xbox and the laptop need to connect to the same home network to maintain play.
Obviously, a faster network will provide a better experience with less lag time. With a good connection, you should see very little lag and the gameplay won't suffer. Check out the Lenovo Legion laptops for gaming.
This method requires that your laptop is running Windows 10 and you have a WIFI connection for both the Xbox and the laptop. You can also use a wired connection if you wish. Make sure both devices are actively connected to the network.
Enable game streaming on the Xbox through 'settings'. Under 'Xbox app connectivity' select 'Allow game streaming to other devices'.
Download and install the Xbox Console Companion app from the Microsoft store onto your laptop if you don't have it. Sign in to your account.
Select 'connection' from this app and then find and select your console.
Click 'stream' to begin the streaming connection, and select the game to start.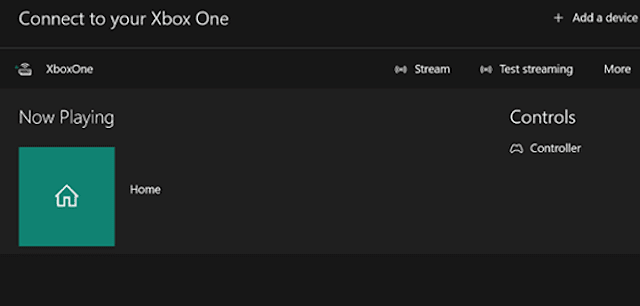 Options
Set or adjust the streaming quality by selecting 'Settings', then 'Xbox One'. If you experience some lag during game-play, adjust the quality down to a lower setting.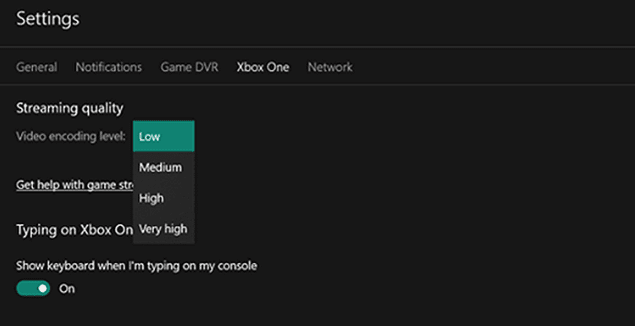 If you see a message that says " This PC is not connected to an Xbox controller. Attach one and try again." Just select 'continue' to bypass the message. You will still be able to play.
Connecting Xbox To Your Network
For a wired connection, plug an Ethernet cable into the Xbox and your network's router. The Xbox One will detect the connection and configure itself with an IP address.
For a wireless connection, access the 'Settings" menu, then select "Network".
Select 'Set up wireless network' and pick your network, then enter the password.
Be sure to check out my articles called:
>> Easily Turn Your Laptop Into WiFi Hotspot (5 steps)
>> What's Better For Multitasking, More RAM Or A Bigger SSD?
It will help you decide on what component to upgrade.
5 Cool Things You Can Do On Xbox One
1) Download and set achievement art as background:
From your profile, select 'My Achievements', find the game you want then find 'Unlocked Achievements'. From there choose 'Set As Background'.
2) Connect External Storage:
Plug in a USB3.0 external drive to your Xbox to create additional storage. This also allows you to keep data and installs portable.
3) Control Xbox One From Phone App:
Download the iOS or Android app for Xbox. This app allows you to control your Xbox, join groups to communicate with.
4) Stream Gameplay To Twitch:
Download the Twitch app, sign in and start broadcasting.
5) Watch TV Through Your Xbox One:
Using the OneGuide app lets you set up Netflix, but also TV. It will guide you on what to do, but basically, you connect an HDMI cable to your cable box and Xbox.
The Next Generation Console: Project Scarlett
Reduced load time was a big issue when developing this next-generation console.
These are quotes from the developers-
"It's all about choice."
"This console will enable resolution and frame rates never seen before."
"Next-gen ray-tracing in real-time, because it's hardware accelerated."
"We're using SSD as virtual RAM to see over 40 times performance increases."
"This is the most immersive console experience ever."
Project Scarlett is the code name for the next-generation Xbox, called the Xbox Series X.
It looks more like a gaming PC than a standard console, and with it's advanced hardware it might just be unrivaled in the gaming world. It offers 12 teraflops of power, true 4K gaming and 8K ready, 120frames per second(FPS) and 1TB of custom SSD.
Be sure to check out the Xbox Series X over at Amazon for the latest prices. The link is part of my affiliate program where I earn a small percentage if you purchase.
Summary
How to use a laptop as a monitor for Xbox One? Connecting your Xbox One to your laptop can be accomplished in two ways. Although most users will find they do not have an HDMI IN port, they can still use the second option and connect both devices to their home network. This gives users the freedom of movement to play Xbox games in any room of their house as long as they are connected to their network. So try it out, get connected and start playing your favorite game.
READ NEXT: Why Does My Laptop Overheat?
The above are Amazon affiliate links I chose that are Alienware laptops. If you make a purchase I receive a small percentage. If you are in need of a new gaming laptop check them out.