I've been a fan of Lenovo laptops for a long time, they've shown to be reliable and have a good build quality.   I wanted to know how the Lenovo Legion line of gaming computers, both laptops, and desktops, stacked up in the demanding arena of gameplay.
As I've said, they have a reputation for quality, but can they produce a computer packing enough punch for serious gamers.
Lenovo has studied the gaming market and incorporated what it learned into it's Legion Gaming PCs.
They actually ran a study, asking participants a series of questions to learn the most important needs and wants in a gaming computer.
That's where the Legion Gaming computers come in, Lenovo took what they learned and built the Legion line by drawing on that information. "Cooler thermals, extended battery life, TrueStrike keyboard upgrades, and more immersive displays supercharge play-ability and performance across the latest Lenovo Legion™ lineup" -from Lenovo.
So What Are Gamers Looking For According To Their Study?
You kick back in a good gaming chair to play a game and you want a good experience. It's no surprise that good graphics are at the top of the list.
They can further break this down into a powerful graphics card, or GPU, a good screen resolution, as well as a high refresh rate.
Following this was better processors and additional memory. Gamers in the study also placed emphasis on the keyboard and lighting.
The majority, or about 85%, said they had spent time improving how their gaming computer was set up.   The chart below shows what features gamers wanted to add to their existing setup to have a better game experience.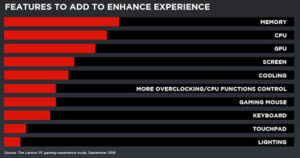 Which Lenovo Legion Is Best For Gaming?
Lenovo Legion gaming computers come in both laptop and desktop models. I'll look at both of these separately.   Let's look at the models:   Legion Y Series is available in either a 15″ or 17″ display. The image below shows the specifications of a 17″ model available in the U.S. Notice the graphics are NVIDIA RTX 2080.  
These two below are the new Lenovo Legion 7 models. As of this writing, they are not yet available in the U.S. Both of these are 15″ laptops and both use the Intel 10 Gen. H-series core processor.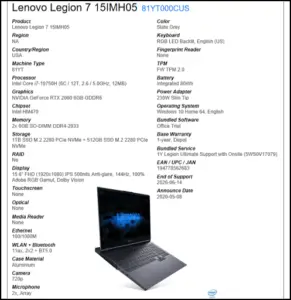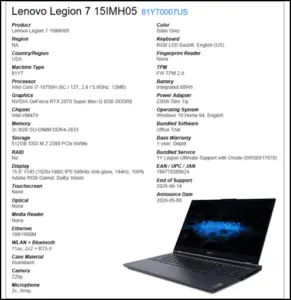 Below is the new Lenovo Legion 5 laptop. Check out the processor on this model. It runs the AMD Ryzen 4000 series processor, and also the NVIDIA GeForce GTX 1650 4GB graphics. Check out all the specs and how to upgrade a Legion 5 as well as the Legion 7 laptop.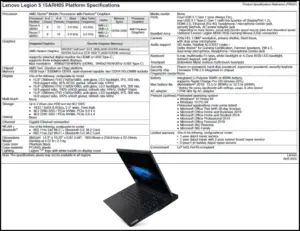 The image below shows the Lenovo Legion Cube C730. It is a pretty cool desktop design and powerful too.  I'm not sure Lenovo is continuing to sell these in the future, as they do not appear in any upcoming announcements on the Legion line of computers. 
I'll try to keep up on the news of these to find out for sure. The C730 specifications include the 9th gen. Intel processor and NVIDIA GeForce RTX 2070 graphics.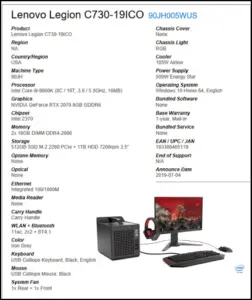 Also to note is Lenovo is changing the Legion line-up naming convention. To make things simpler, the Legion product names going forward will be 3, 5, and 7.
This is to help identify the entry to high-end products. So essentially, the current Y740 will become the new 7i model, and the current Y540 will turn into a 5i.
The new Legion 5 and 7 models both will get the latest NVIDIA GeForce RTX graphics cards. The Legion 5i will have up to the GeForce RTX 2060. The Legion 7i up to GeForce RTX 2080 Super GPU with Max-Q.
And as shown in the specs, both are offered with the latest Intel 10th Gen. H-Series processor, as well as the NVIDIA Advance Optimus to help preserve battery life. Don't overlook these features in the new Legion laptops:
Lenovo Legion TrueStrike keyboard
Lenovo Legion Coldfront 2.0
Hybrid Mode, NVIDIA® Advanced Optimus
Dolby Vision® and OverDrive Support
Lenovo also makes gaming phones. Read my article: Lenovo Legion Duel And Duel 2 (How-To) on how to fix common issues with the phones.
Benefits Of A Lenovo Legion For PC Gaming
Features include:
All-metal exterior and available in a sleek Slate Grey hue.
Legion 7 laptop range from 3.74lbs. to about 4.62 lbs.
Up to 10th Gen Intel Core i9 H-Series overclocked mobile processors.
Storage of up to 1TB PCIe SSD.
Up to 32GB DDR4 memory.
Up to 240Hz refresh rates and response times under 1ms with OverDrive and NVIDIA G-SYNC technology.
Up to NVIDIA GeForce RTX 2080 SUPER GPU with Max-Q.
Dolby Atmos Speaker System.
The Lenovo Legion TrueStrike keyboard has anti-ghosting and sub-millisecond response times. Also has soft-landing switches that result in hair-trigger accuracy.
Over 16 million color combinations with the Corsair iCUE system lighting, or an optional 4-zone RGB lighting effect.
Lenovo Legion Coldfront 2.0 boosts the performance with dual fans and an integrated Vapor Chamber and updated thermal sensor array.
It is amazing that laptops are competent these days to play serious games. It wasn't that long ago only a big desktop model would be able to carry that kind of load. Not only do the Lenovo Legion laptops have much-improved graphics, CPUs, and memory capabilities, but they offer RGB and excellent keyboards.
Read how to use a laptop as a monitor on your Xbox.   Here's a quick summary chart of the NVIDIA GeForce Performance ratings. It's just a nice reference to look at.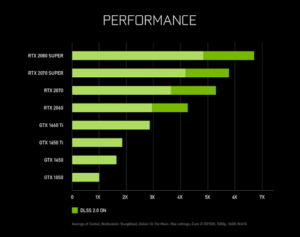 In Summary
Lenovo Legion certainly should be considered when looking for a new gaming computer. They offer really nice innovative technology and features, and you know Lenovo has a reputation for quality.
They offer both powerful laptops and desktop models, making it difficult for me to decide. A laptop is portable but still powerful enough for gaming, but their desktop can also be carried if needed and has room to upgrade or expand. I'm really excited to see the new Legion 7 laptops when they are available here in the U.S.