A lot of people are experiencing their Lenovo Yoga 520 touch screen not working. For some reason it has done this before, the screen works fine then it just quits. Apparently it is a random issue that decides when the touch screen will work.
Verify the Yoga 520 touch screen drivers are up-to-date. Next, uninstall the driver and reboot the Yoga 520. Finally, open the back cover.
Many reasons may be to blame for the touch screen not working, from hardware to software issues. I will start with software fixes for you to try and then move to the hardware solutions.
Keep reading to find out how you can resolve your Yoga 520 touch screen issue.

Lenovo Yoga 520 Touch Screen Not Working
The list below shows the procedures to follow to get a touch screen working again.
Ensure all drivers are up to date as well as Windows updates.
Disable and re-enable the HID touch screen driver.
Update the Yoga 520 to the latest BIOS.
Remove back cover and check EDP cable.
Update Yoga 520 Drivers And Windows Updates
Navigate to the Lenovo support website to find and install the latest driver packages.
You can choose to either do automatic updating or manual updates.
-> Lenovo Yoga 520 Driver Downloads <-
Another option is to download and use the Lenovo Vantage application. This is an all-in-one program to update drivers, BIOS, run diagnostics, etc.
If you prefer to use Vantage to update your laptop follow the link below.
-> Lenovo Vantage Download <-
Be sure to run Windows update and install the latest patches, some of these may resolve issues you are seeing with the touch screen.
TIP: After applying new drivers or Windows updates, reboot your Yoga 520.
Disable and Re-Enable HID Touch Screen Driver
Right click Start menu and select Device Manager.
Click on Human Interface Devices >> HID-compliant touch screen or HID-compliant device. If you don't see it, click View >> Show hidden devices to make it visible.
Right-click on HID-compliant touch screen or HID-compliant device.
Finally click Disable Device.
You will be prompted to make certain you want to disable the device. Select Yes.
At this point you can either follow those steps again but this time select Enable Device to re-enable it, or you can reboot your Yoga 520 and then re-enable the device.
I suggest you reboot the laptop first and then selecting to Enable Device.
TIP: At this point when you click on HID-compliant touch screen, you can also select Scan for hardware changes to have Windows check for any changes.
---
Related articles:
Own an E41-15 or E41-25 Lenovo? Read my article titled:
Lenovo E41-15 & E41-25 Drivers (Get These)
Also:
Lenovo Keyboard Backlight Not Working(Steps To Fix)
---
You might want to also download a program called Active Pen for your Yoga 520. Active Pen is of course for a stylus or pen from Lenovo, but if you need the program find the link below.
-> Active Pen for Yoga 520 <-
Update Yoga 520 BIOS
A BIOS update may be in order to resolve your touch screen not working issue.
The latest BIOS for the Yoga 520 as of this writing is:
Version: 4QCN51WW(V2.15) Date: 15 Jan 2020
Be sure to read the instructions with the BIOS file prior to updating.
-> Yoga 520 BIOS Download <-
Check EDP Cable On Yoga 520
If none of the above steps have worked to fix the touch screen not working, there is one last thing to try before sending the laptop in for a display replacement.
Open the back cover of the Yoga 520 and check the EDP cable. This is simply the display connector from the motherboard to the display itself.
Follow the cable and check for crimps or damage.
Check the connection into the motherboard to ensure it fits tightly.
TIP: One user put a small folded up piece of paper over the connector so when the back cover was re-installed, it applied extra pressure to make sure the connection was tight.
Remove Yoga 520 Back Cover
Removing the back cover of the Yoga 520 only requires unscrewing 10 screws and lifting up the cover. See the diagrams below on the process.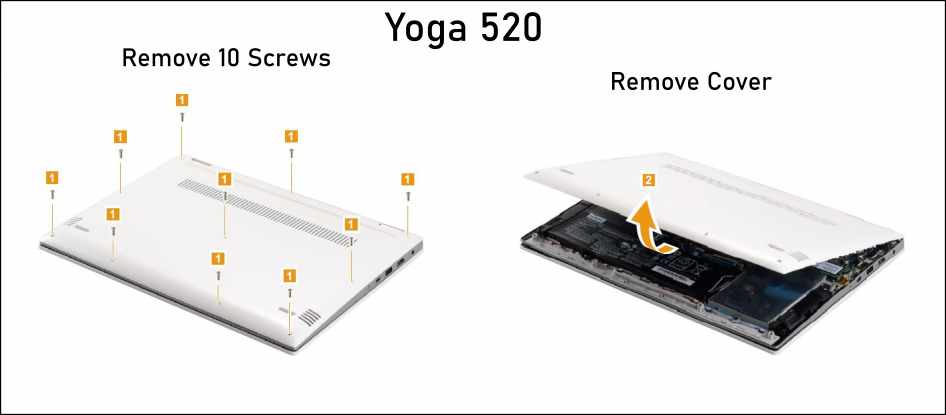 In Summary
If after following all the steps above your Lenovo Yoga 520 touch screen is not working still, it is time to call support for a repair and display replacement. Many people find a combination of device driver updates and/or software fixes fix their issues. But I have to note that there are too many Yoga laptops with defective touch screens. Hopefully, you have found a solution to get your working again.