In an era where portability intersects with power, the dynamics of work have been significantly revolutionized. An increasing number of professionals and digital nomads are gravitating towards compact yet robust systems to support their tech-savvy lifestyles.
This article delves into the latest entrants in the travel laptop market, offering insights into their features, performance, and suitability for on-the-move work environments.
With a variety of options at hand, the quest for the ideal balance between performance, portability, and price continues. Let's embark on this exploration together.
By leveraging technology, specifically portable devices like laptops, one can stay productive no matter where they are on the planet.
As the desire for lightweight, robust, and high-performing travel companions rises, the importance of making the right choice becomes paramount.
Key Considerations When Selecting Travel Laptops
When choosing your perfect travel laptop, there are several key considerations to keep in mind.
Size and Weight
One of the most important aspects to consider when selecting a laptop for travel is its size and weight. Ideally, a travel laptop should be lightweight and compact, making it easy to carry around in your backpack or hand luggage.
Most travelers prefer laptops around 13-14 inches in size, as they strike a good balance between screen size and portability.
Aim for a laptop that weighs less than 3 pounds and has a 13 to 14-inch screen size for the best balance of usability and portability.
However, if you need a larger display or a full-size keyboard, you may want to consider larger models.
Remember, every pound adds to your travel burden, so opt for lighter models whenever possible.
Related: Traveling With A Laptop | 5 Best Tips
Battery Life
Battery life is another crucial factor to consider. When you're on the go, you may not always have immediate access to a power outlet, so having a laptop with a long battery life can make a significant difference.
Look for laptops that offer at least 8 hours of battery life under normal usage — the longer, the better.
Be mindful that battery life estimates provided by manufacturers often represent best-case scenarios, so reading product reviews can give a more accurate picture.
Performance
The performance of your laptop depends on several factors, including the processor, RAM, and storage type.
Performance is a non-negotiable factor, especially if your work involves heavy software or multitasking. Opt for laptops with a robust processor, at least 8GB of RAM, and dedicated graphics if your work is graphics-intensive.
When choosing a laptop for travel, you must consider what tasks you'll be doing. If your work involves heavy multimedia editing or gaming, laptops with a fast processor and dedicated graphics card are a better choice.
But, if you're primarily going to use your device for lighter tasks like web browsing, emailing, or working on documents, you can probably get by with a less powerful model, which will also help you save on cost.
Durability and Build Quality
Travel involves a lot of moving around, so your laptop needs to be robust enough to withstand the rigors of travel.
Look for a laptop with a sturdy build quality, preferably one with a metal or high-grade plastic body. Some laptops are also rated for military-grade durability, which means they are tested to withstand harsh conditions such as drops, vibrations, and temperature extremes.
Operating System
Depending on your preference and needs, you might lean towards either a Windows, Mac or Chrome OS. Windows offers the most software compatibility, Macs are known for their smooth operation and excellent build quality and Chromebooks are usually cheaper, lighter, and have a long battery life but are somewhat limited as everything runs through the Chrome browser.
Whether it's the flexibility of Windows, the user-friendly interface of macOS, or the customization possibilities of Linux, choose what suits your needs best.
Storage
Solid State Drives (SSDs) are generally faster, more reliable, and less prone to damage than Hard Disk Drives (HDDs).
They also run silently and can help to conserve battery life. However, they can be more expensive than HDDs for the same amount of storage.
A good starting point for most users is 256GB of storage, but if you handle a lot of large files or want to store many movies for viewing on long flights, you might want to opt for more.
Also Read: Top-Notch Laptops for Effective Remote Work
Establishing Connectivity
For the ideal travel laptop, top-tier connectivity options are a must. Seek out a compact laptop that doesn't compromise on its assortment of ports, including USB-C, USB-A, HDMI, an SD card reader, and a 3.5mm headphone jack.
Additionally, a laptop with robust Wi-Fi and Bluetooth connectivity is critical to ensure easy internet access and device connection, regardless of your location.
A good selection of ports (USB-C, HDMI, SD card slot) can make your life easier when connecting peripherals or outputting to screens, while reliable Wi-Fi and Bluetooth are vital for internet access and wireless connections.
Review of the Best Travel Laptops 'Current Year'
Introduction to Top Travel Laptops
Travel necessitates having a laptop that demonstrates a strong fusion of versatility, compactness, and an impressive battery life.
Global brands like Lenovo, Apple, Microsoft, and Dell have made significant strides in designing and refining laptops that cater specifically to the needs of travelers.
In the following section, we will examine in detail the essential characteristics of a top-notch travel laptop, alongside some of the best offerings currently available on the market.
Key Features in Travel Laptops
When it comes to travel laptops, certain key features emerge as essential in enabling an optimal on-the-go computing experience.
Lightness and Compactness
Lightness and compactness are paramount. Advanced readers would appreciate a high screen-to-body ratio, which offers a large display in a compact body. Details such as slim bezels and a weight of around 2-3 pounds would be ideal for the frequent traveler.
Robust Performance
A potent processor is crucial for handling demanding tasks smoothly. Most advanced users would require at least a 10th-generation Intel Core i5 or its AMD Ryzen equivalent. A minimum of 8GB RAM is essential for seamless multitasking, and a dedicated Graphics Processing Unit (GPU) is an added asset for those into creative work or gaming.
High-Resolution Display
A high-resolution display can make a substantial difference, especially for those into graphics-intensive work like video editing or digital design. An IPS panel with a resolution of 1920×1080 pixels or higher provides vibrant colors and wide viewing angles.
Solid State Drive (SSD)
An SSD is a non-negotiable feature, offering faster boot times, quicker file transfers, and greater durability compared to traditional HDDs. A capacity of 256GB or higher is ideal, although advanced users handling large datasets or files might opt for 512GB or 1TB.
Long Battery Life
Long battery life is a predominant feature for travelers. A laptop that can deliver at least 10 hours of usage on a single charge would be a worthy companion on long-haul flights or extended remote working sessions.
Connectivity
In terms of connectivity, USB-C with Thunderbolt 3 support offers high-speed data transfer and the ability to connect to multiple peripherals and monitors. An HDMI port would be useful for presentations, while an SD card slot would be beneficial for photographers. Wi-Fi 6 and Bluetooth 5.0 ensure fast and stable wireless connections.
Durability
Durability, often overlooked, is a significant factor. A laptop with a MIL-STD-810G military standard for durability would be ideal, as it has been tested to withstand harsh conditions.
Keyboard and Trackpad
A comfortable keyboard and responsive trackpad greatly enhance the user experience. Backlit keyboards facilitate working in dimly lit environments, while a precision touchpad ensures smooth navigation and supports multi-finger gestures.
By focusing on these key features, you ensure your travel laptop is not just a scaled-down version of a desktop computer, but a powerful, self-sufficient machine that can keep up with your dynamic and mobile lifestyle.
See: Best Laptops For Working From Home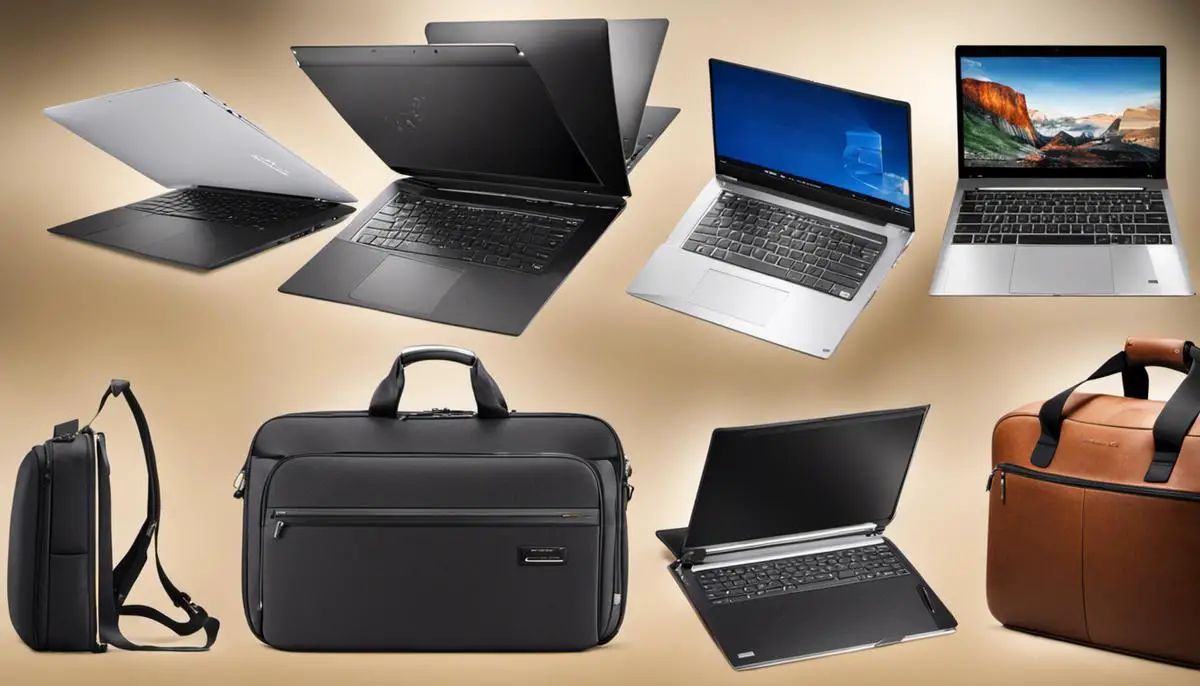 The Best Travel Laptops of Today
Lenovo ThinkPad X1 Carbon
The Lenovo ThinkPad X1 Carbon is a reliable travel companion that combines lightness, robust performance, and long battery life.
This laptop is powered by a 10th generation Intel Core i5 processor, 8GB of RAM, and features a fast 256GB SSD. The 14-inch, high-resolution display is suitable for a range of tasks, from document editing to media viewing. With its MIL-STD-810G durability rating, this device is built to endure the rigors of travel.
Apple MacBook Air
Apple's MacBook Air has always been a favorite among travelers, and the latest iteration is no exception.
Powered by Apple's revolutionary M1 chip and boasting a battery life of up to 18 hours, this device is perfect for long flights or extended working sessions. The Retina Display offers vibrant colors and sharp text, while the sleek and lightweight design makes it easy to carry.
Dell XPS 13
The Dell XPS 13 is known for its sleek, compact design and excellent performance. Equipped with an 11th-generation Intel Core i5 processor, 8GB RAM, and a 256GB SSD, it's more than capable of handling demanding tasks.
The impressive InfinityEdge display offers near-borderless visuals, and the battery can last up to 12 hours on a single charge.
Microsoft Surface Laptop Go
The Surface Laptop Go from Microsoft is a perfect blend of performance, portability, and affordability.
It features a 10th Gen Intel Core i5 Processor, 8GB of RAM, and a 128GB SSD. Despite its compact size, it boasts a vibrant 12.4-inch PixelSense touchscreen. A battery life of up to 13 hours and the added convenience of fast charging make it an ideal choice for travelers on a budget.
Acer Swift 5
The Acer Swift 5 is an exceptional combination of performance, portability, and design. At just 2.31 pounds, it's remarkably light despite housing a powerful 11th-generation Intel Core i5 processor, 8GB of RAM, and a 256GB SSD.
The laptop's 14-inch Full HD IPS touch display delivers crisp visuals, perfect for work and entertainment. A single charge can keep the Swift 5 running for up to 15 hours, making it an ideal companion for long journeys.
The durable design, complete with a MIL-STD-810G rating, ensures it can handle the stresses of travel. With the addition of USB-C, Thunderbolt 4, and Wi-Fi 6, you're assured of the best connectivity to handle all your peripherals and online requirements.
HP Elite Dragonfly
The HP Elite Dragonfly is a shining star in the travel laptop category with its ultralight and durable design. This versatile laptop is powered by an 8th generation Intel Core i5 processor, complemented by 16GB of RAM and a 256GB SSD for smooth and fast performance.
The 13.3-inch Full HD touch display offers vibrant and sharp visuals making it an excellent choice for professionals on the go. The battery life is impressive too, lasting up to 16 hours on a single charge. Equipped with Wi-Fi 6 and Bluetooth 5.0, this laptop ensures efficient connectivity.
ASUS ZenBook 14
The ASUS ZenBook 14 is a compact powerhouse that is perfect for travelers. It's powered by an 11th-generation Intel Core i5 processor, with 8GB of RAM and a 512GB SSD, delivering robust performance.
The laptop's 14-inch Full HD display, featuring slim NanoEdge bezels, provides an immersive viewing experience. With a weight of just 2.62 pounds and a battery that provides up to 22 hours of usage, this is a laptop built for people on the move.
It also boasts military-grade durability and includes the latest connectivity features, including Thunderbolt 4 and HDMI.
Each of these laptops has its unique strengths, but all of them meet the crucial requirements of portability, performance, and battery life. Choose the one that best aligns with your specific needs and work style while on the move.
Additional Considerations When Choosing a Travel Laptop
Beyond the main features of portability, performance, and battery life, there are a few other considerations that may guide your choice of a travel laptop.
Operating System: The choice between Windows, macOS, or Chrome OS is largely a personal preference, based on your familiarity and comfort with each system. Each has its strengths – Windows is versatile, macOS is user-friendly, and Chrome OS is lightweight and fast.
Price: Travel laptops come in a wide range of prices. It's essential to balance your budget with your requirements. More expensive laptops often offer better performance, build quality and features, but there are also affordable options with reasonable performance.
Warranty and Customer Support: Look for a laptop from a manufacturer that offers a good warranty and has a reputation for quality customer support. This will be especially valuable when traveling, as you never know when you may need assistance.
Screen Quality: If you plan to work for extended periods, consider a laptop with a high-resolution display that reduces eye strain. Touchscreen displays can be useful for those who prefer a more interactive experience.
Noise and Heat: Some laptops can become noisy or hot during prolonged use. If this could be an issue for you, look for reviews that comment on these factors.
Remember, the best travel laptop for you will depend on your specific needs and preferences. Consider all these factors in light of your work requirements and travel habits to make the best choice.
Travel Laptop Accessories and Add-ons
A Traveler's Best Friend: Portable Chargers
When it comes to essential travel items, a reliable, portable laptop charger undoubtedly takes the crown. Irrespective of where you are or the time of day, portable chargers give you the power to keep your laptop—and by extension, your work and communications—up and running.
Not only this, but their multiple charging ports make it a breeze to charge a host of other devices, including phones and tablets.
Options abound on the market, but popular ones to consider include the Anker PowerCore+ 26800 PD, RAVPower 27000mAh AC power bank, and the MAXOAK 50000mAh with 6 ports—a 5/12/20v versatility.
Ready to shop? These chargers are readily available online on platforms such as Amazon, with prices typically ranging from $100 to $200.
International Adapters
International power adapters are life savers for travel laptops, as they ensure you don't worry about different plug standards found in different countries.
They usually have multiple plug options that fit different sockets worldwide, allowing you to charge all your devices, including your laptop, without fuss.
Models like the Bestek Universal Travel Adapter, the EPICKA All in One Wall Charger, or the Bonazza All in ONE World Travel Plug Power Adapter are good choices.
These can also be bought on Amazon or online electronics shops and range from $20-$50.
Robust Carrying Cases
A robust carrying case offers protection to your laptop while in transit, making it an essential accessory. When choosing a case, consider factors like the material (should be strong enough to withstand physical impact), size (should fit your laptop perfectly), and extra features like water resistance or additional pockets for accessories.
Some highly-rated laptop cases include the Nacuwa 360 Laptop Sleeve, the ProCase Laptop Hard Case Sleeve Bag, and the Case Logic Laptop Sleeve.
These can be found online or at any local electronics store, with prices typically ranging from $15-$50.
Portable Mice and Keyboards
Portable mice and keyboards enhance your overall productivity by providing the same comfort and ease of use you'd get at your office or home setup. Being compact, they are travel-friendly and don't take up much space.
Popular choices like the Logitech MX Anywhere 2S Mouse, Anker Wireless Vertical Mouse, Microsoft Surface Keyboard, and the Logitech K380 Multi-Device Bluetooth Keyboard are worth considering.
These devices can be procured from different online or brick-and-mortar stores ranging from $20-$100.
Enhancing your travel experience significantly, a good laptop offers not just work convenience but also entertainment aboard. It can be your companion during your travel escapades, provided it comes with features like robust protection and ease of charging. Although prices might fluctuate based on the brand and features, the added benefit of security and convenience makes it a worthy investment.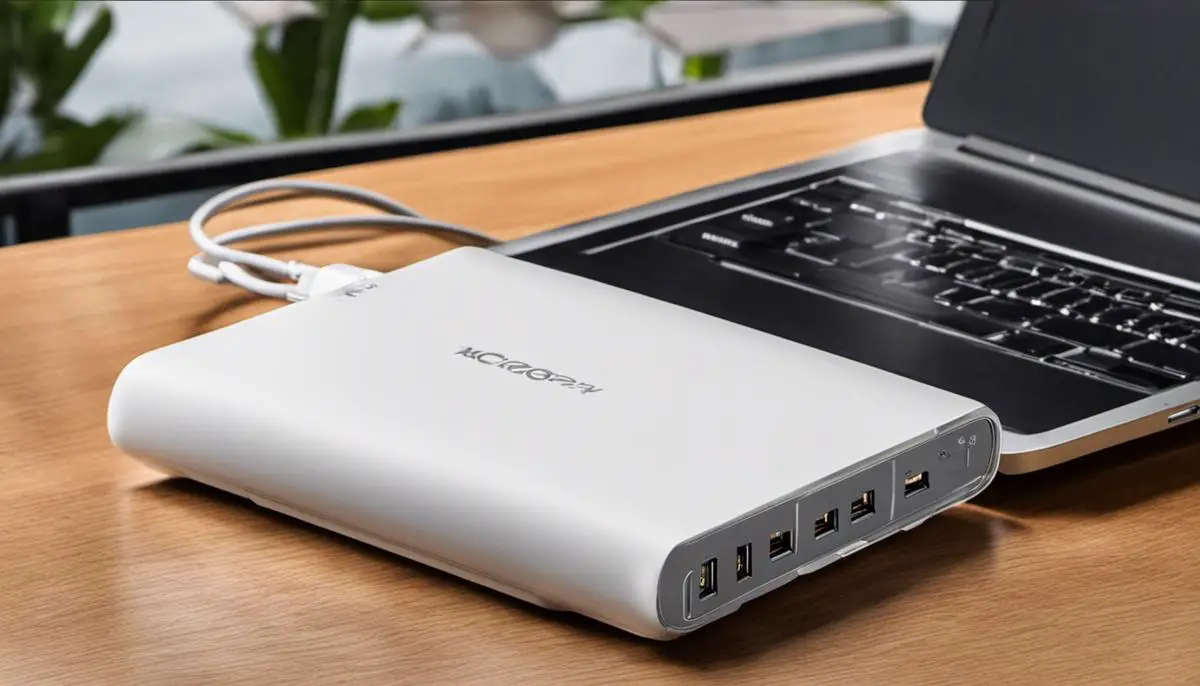 Eco-Friendliness of Travel Laptops
The environmental impact of our consumer habits is gaining increasing attention in today's eco-conscious society. This mindset extends to the realm of tech purchases, such as travel laptops.
Many manufacturers are becoming responsive to these demands and are focusing on creating products that are energy-efficient, longer-lasting, and fabricated from recyclable materials.
Energy Efficiency:
Laptops that are designed to be energy efficient consume less electricity, inadvertently reducing your power bills and simultaneously decreasing your carbon footprint. Consider options like the Apple MacBook Pro, which is Energy Star certified, or the HP Elite Dragonfly, which features a low-power mode to save energy.
Durability and Longevity:
Investing in a laptop that has a longer lifespan not only offers you extended usage but also lessens the frequency of electronic waste. For instance, models such as the Dell Latitude 5420 Rugged and the Lenovo ThinkPad X1 Carbon are renowned for their durability and build quality, potentially ensuring a longer lifespan and less frequent replacement.
Use of Recyclable Materials:
Several manufacturers are now focusing on using more recyclable materials in the construction of their products, leading to less waste ending up in landfills. The Google Pixelbook Go, for example, incorporates a considerable amount of recycled plastic in its construction. You should also check for manufacturers that offer recycling programs for their old devices, like Apple's Trade-In program.
Ethical Manufacturing Practices:
It's crucial to factor in a company's manufacturing processes as well. For instance, does the company use renewable energy sources in their factories, or have they implemented initiatives to minimize waste during production? Apple, for instance, is aiming to become carbon neutral across its entire business by 2030.
Always keep in mind that each small decision we make can have a significant impact on our environment. By assessing the eco-friendliness of your next laptop purchase, you're making a wise investment, both for yourself and for the planet.
Maintaining Your Laptop When Traveling
Preserving Your Laptop Battery Life
When you're traveling with a laptop, managing the battery life is a challenge, but it is a vital factor to consider. Access to charging spots might not always be possible, hence a laptop with a long battery life comes in handy. To prevent the battery from overcharging, unplug your charger as soon as the laptop is fully charged.
To ensure long-term battery health, try to maintain your laptop's battery charge within 20% to 80%.
Also, switch off any background apps that might be draining your battery unnecessarily. For Windows, the battery levels can be checked via Settings > System > Battery. For Mac users, battery consumption can be viewed by navigating to Applications > Utilities > Activity Monitor.
Protecting Your Laptop from Physical Damage
Protecting your laptop from physical damage while traveling is both a necessity and a challenge. Always have a laptop sleeve or case to provide an extra layer of protection from shocks and general wear and tear. These usually come with padded interiors to absorb shocks and a waterproof exterior to protect against spills or rain.
Furthermore, avoid placing heavy items on your bag that may exert pressure on your laptop which can lead to internal or external damage. Be mindful of where and how your laptop is placed in your backpack or case, ensuring it's not squeezed or distorted.
Software Updates and Security
Ensuring that your software is updated and secure is an integral aspect of laptop maintenance. Regularly updating your software ensures that you have the latest security patches and bug fixes, thus reducing vulnerability and improving performance.
When connecting to different networks while on the go, it's imperative to verify their security. Connecting to unsecured or public networks exposes your laptop to potential threats. Implement a VPN (Virtual Private Network) to protect your data while utilizing public Wi-Fi networks.
Activate two-factor authentication for your online accounts as an extra layer of security. This way, if someone attempts to access your accounts from an unknown device, you will be alerted and can prevent unauthorized access.
Data Backup
When traveling, there's always a risk of your laptop being lost or damaged. Regularly backing up your data on an external drive can prevent the loss of essential files. Cloud backup services such as Google Drive, Dropbox, or OneDrive also offer options to regularly auto-save and backup data online, ensuring your work is not lost in case of a setback with your hardware.
Cleaning Your Laptop
Last but not least, clean your laptop frequently. Dust and debris can accumulate in the keyboard and other parts, which can impact performance over time. Use compressed air to clean out the ports, a microfiber cloth to clean the screen, and disinfecting wipes for the keyboard and trackpad. However, remember to avoid liquid cleaners directly on the laptop as they can cause damage.
Maintaining your laptop when traveling requires careful management of battery life, ensuring physical protection, constant software updates, regular data backup, and frequent cleaning. Keeping up with these practices will not only prolong the life of your laptop but will also assist in making your digital nomad experience more seamless and efficient.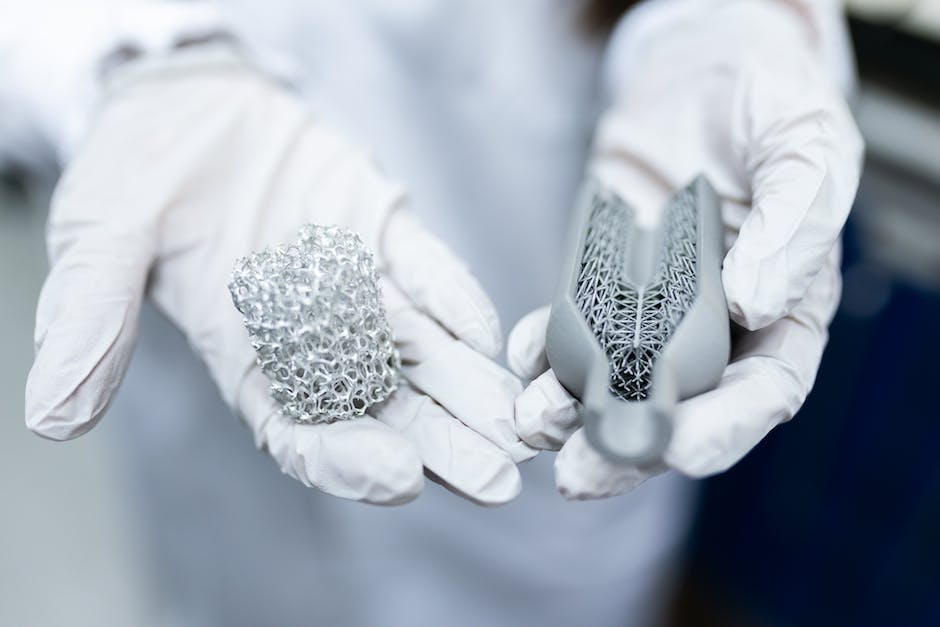 Conclusion
In conclusion, choosing the right travel laptop can significantly enhance your work and entertainment experiences on the go. Not only can it streamline your work, but the right accessories, such as power banks, international adapters, robust carrying cases, and portable mice and keyboards, can provide added convenience.
More important than ever, is the environmental impact of your purchase. By selecting laptops that are energy efficient, have a long lifespan, are made from recyclable materials, and are produced through ethical manufacturing practices, we can make consumer choices that are not only beneficial to us but also to our planet.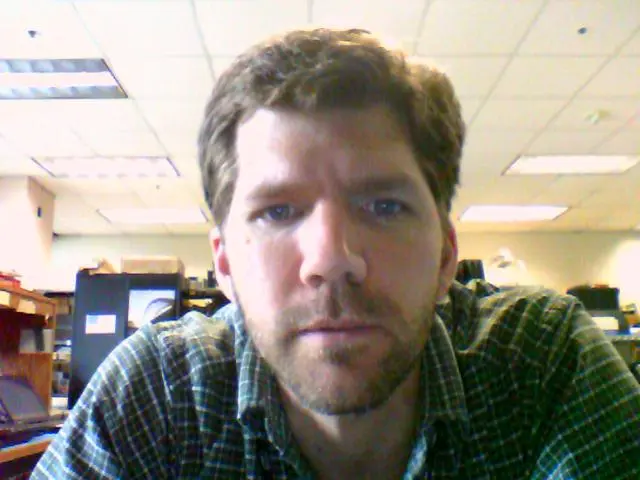 J.S. is the owner, content creator, and editor at Upgrades-and-Options.com. I've worked in the IT and Computer Support field for over 20 years. The server hardware in my computer labs has mostly been IBM, but I've supported Dell, HP, and various other hardware. In addition, as part of my lab administrator responsibilities, I've learned, supported, and repaired/upgraded network hardware such as Cisco routers and switches. READ FULL BIO >>